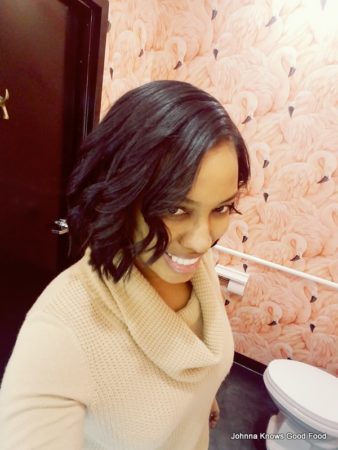 There a few things I am fussy about when it comes to beauty care mostly because I take the simplistic approach to these things.  Less is better.  The one thing I am anal about, however, is my hair.  I loathe doing my hair so I take the easiest approach to the process by having it blown out with a good hair styling brush and straightened when I do not want to do the natural curly look.  The newest blow-dry bar to the District immediately grabbed my attention where I LIVE in the dry bar (*I have tried every location in the District, I promise).  Located in the up and coming Ivy City (MOM's Organic, Ulta Beauty, Nike Store), Sip & Dry Blowout Bar, offers cocktails with each blowout.  Why is this a winner?
It is the only blow dry bar that actually boasts crafty cocktails with a full time bartender on staff instead of all of those sugar doused wines and prosecco's.
The price is right. For $48, you get a wash, blow dry, style and a potent drink in a high-ball glass.  Most places charge $45 just for the blow out and style.
Sip & Dry also offers other services such as makeup application and updos.
I love the intimate space of Sip & Dry Blowout Bar which could work for or against me:  they only accept reservations, no walk-ins.  If you should walk-in, however, rest assured that they will at least try to accommodate you where they utilize every person's skills on the staff i.e. the manager on duty will jump in to complete services if there is a need.  Get your wig done with cocktails on the side?  This sounds like my squads next happy hour destination.
Category: Announcements, Product Review, Style Section, Washington D.C.
Johnna French is a Harlem NY native with deep roots in Panama, Washington, DC and North Carolina. All four places have heavily influenced her life and the foods she loves today. After graduating Howard University School of Law and beginning her life as a young professional in the city she was led to start Johnna Knows Good Food in November 2007 to keep family, friends and colleagues updated on where to go and what to eat while dining in the nation's capitol. French, who still practices law, leads a team of three writers to cover the ever expanding Washington, DC food scene. French has been featured in print and television, appearing in Washingtonian Magazine and is a regular contributor to various local TV affiliates including WUSA 9, FOX 5 DC and WJLA (ABC Affiliate) News Channel 8. During the 2016-2017 football season, Johnna aired on Comcast Sports Mid-Atlantic (CSN) show, Redskins Life, as the weekly tailgate host. Johnna is currently a regular contributor to the FOX Baltimore Weekend morning show.
---