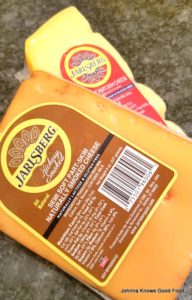 Jarlsberg® Cheese is celebrating their 60th anniversary with a giveaway that could land you in Norway.  Jarlsberg® Cheese fans can enter the Jarlsberg® Cheese Weekly Perfect Pairing Giveaway for a chance to win a trip to Norway from now – Sept. 12, 2016.  Enter daily at www.jarlsbergusa.com where Jarlsberg® Cheese is giving away 6 trips to Norway to 6 pairs of Jarlsberg® cheese fans to celebrate the 6 amazing decades.   Simply fill out the form at www.Jarlsbergusa.com  and, if you would like to double your chances, also post a photo showing your favorite pairing of Jarlsberg® Cheese on Facebook at www.facebook/jarlsbergusa.
The weekly grand prize is a Perfect Pair of tickets to Norway, including airfare for two people and hotel accommodations for 4 nights.  The weekly 1stprize includes the Perfect Pair Jarlsberg Cheese Kit: $50 OmahaSteaks.com gift card and a $50 visa gift card to purchase the perfect pairing wine of choice.  We got lucky and snagged some of the goodies that might be found in the Cheese Kit.  Cheese and a trip to Norway??  I'll take it.
Category: Announcements, Food.Fun.Stuff., Travels
Johnna French is a Harlem NY native with deep roots in Panama, Washington, DC and North Carolina. All four places have heavily influenced her life and the foods she loves today. After graduating Howard University School of Law and beginning her life as a young professional in the city she was led to start Johnna Knows Good Food in November 2007 to keep family, friends and colleagues updated on where to go and what to eat while dining in the nation's capitol. French, who still practices law, leads a team of three writers to cover the ever expanding Washington, DC food scene. French has been featured in print and television, appearing in Washingtonian Magazine and is a regular contributor to various local TV affiliates including WUSA 9, FOX 5 DC and WJLA (ABC Affiliate) News Channel 8. During the 2016-2017 football season, Johnna aired on Comcast Sports Mid-Atlantic (CSN) show, Redskins Life, as the weekly tailgate host. Johnna is currently a regular contributor to the FOX Baltimore Weekend morning show.
---