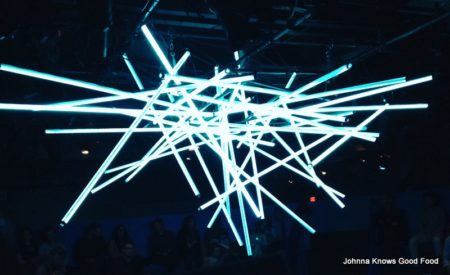 Friday nights have changed from what they used to be for yours truly.  Generally filled with happy hour and some form of Jumbo Slice at the end of the night have now transformed into searches for new plays in town and live music.  On this particular Friday night, Constellations was the play and Studio Theatre was the location.  Having never visited Studio Theatre, I jumped at the opportunity to visit for this performance and after reading the synopsis on Constellations, I was intrigued.  Intrigued is what one will be after:  1.  Entering the intimate round (literally) theatre space (Stage 4) where Constellations is performed; and 2.  You will want to see how a beekeeper and theoretical physicist match up in the end.
The intimate setting for Constellations forces you to focus your energy on the two people in the center of the room.  As they float in and out of alternate universes, you see how if the "stars align" their relationship can take many different turns.  Not giving away the ending, Constellations delivers a love story through the eyes of space with much more gravity.  You will be glued to every movement and line displayed in front of you.
Constellations is currently playing at Studio Theatre thru March 27, 2016
Category: Announcements, Reviews, Style Section, Washington D.C.
Johnna French is a Harlem NY native with deep roots in Panama, Washington, DC and North Carolina. All four places have heavily influenced her life and the foods she loves today. After graduating Howard University School of Law and beginning her life as a young professional in the city she was led to start Johnna Knows Good Food in November 2007 to keep family, friends and colleagues updated on where to go and what to eat while dining in the nation's capitol. French, who still practices law, leads a team of three writers to cover the ever expanding Washington, DC food scene. French has been featured in print and television, appearing in Washingtonian Magazine and is a regular contributor to various local TV affiliates including WUSA 9, FOX 5 DC and WJLA (ABC Affiliate) News Channel 8. During the 2016-2017 football season, Johnna aired on Comcast Sports Mid-Atlantic (CSN) show, Redskins Life, as the weekly tailgate host. Johnna is currently a regular contributor to the FOX Baltimore Weekend morning show.
---