Underground Dinner.
Executive Chef
Nathan Beauchamp's of the
Fainting Goat
 has launched the Goat Underground dinner series, an exclusive, culinary-driven and unpredictable dining experience.  On March 7 and April 4, beginning at
7:00PM
, these dinners, which usually range in price between $90-$120, include a secret 7 to 9-course, menu to be unveiled upon sit-down, with creative cocktail and wine pairings. The entire meal is hosted in a dimly lit room at an intimate table for eight filled with area strangers. Reservations can be made by calling
202.735.0344
 with two seats maximum per reservation.
Salsa And Flamenco Dancers.
Toro Toro,
located at 1300 I Street, NW, 20005, is offering late night Happy Hour exclusively on Thursdays from
5 p.m. to 12 a.m.
and on Friday and Saturday from
11 p.m. to 2 a.m.  Additionally, guests can partake in complimentary group salsa lessons from professional dancers every Thursday night from

9 p.m. to 10:30 p.m.

, followed by an opportunity to show off their new moves at Toro Toro's 5,000 square-foot upscale modern lounge where the nights featured DJ will be spinning Latin, House and Top 40 hits until

2 a.m.

  
Vinoteca
 is hosting an immersive 'dinner & a show' series called "Tintos y Guitarras", featuring live flamenco dancing and music paired with Spanish wines, sherries & snacks, biweekly on Sunday evenings. Every other Sunday from 7-
10pm
, flamenco guitarist Richard Marlow, singer José Oretea, and dancer Sara Jerez, will fill the dining room with sounds, as guests enjoy Spanish-inspired culinary treats and tastes.
Of course, there has to be a Restaurant Week.
Frederick Restaurant Week will take place March 6-12, 2016.  A pricing guide can be found on the Frederick Restaurant Week website (www.frederickrestaurantweek.com) along with the menus. All costs on the website are exclusive of tax, beverages and gratuity.
New Kid on the Block.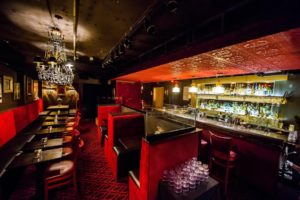 The Sheppard will re-open this Spring for a limited time featuring bartender and spirits expert David Strauss. The Dupont Circle bar will re-launch March 15 in its original location on the second floor of 1337 Connecticut Avenue. The Sheppard's special cocktail program will feature a full roster of classic drinks such as martinis, Manhattans, Old Fashioneds, smashes, traditional sours and highballs — as well as a revolving selection of custom cocktails. The Sheppard will be open Sunday–Thursday, 6 p.m.-2 a.m. and Friday and Saturday, 6 p.m.–3 a.m. For more information, call 202.559.8984 or visit The Sheppard on Twitter: @JMorrisSheppard.
Happy St. Patrick's Day!
The Shamrock Crawl is a special St. Patty's Day celebration.  Feel free to dress up in your finest Irish greens and hit the town for a day of adventures.
When: 1-9PM, Saturday, March 19, 2016 (Clarendon)
JKGF readers 25% off promo code: "BLOG"
Participating Bars: Clarendon Ballroom, Clarendon Grill, Mad Rose, American Tap Room, Hunan One, Spider Kelly's, Whitlow's, Mister Days, The Front Page, Rumors, Oz and more!
What you get: A signature Shamrock's refillable mug, St. Patty's Day party beads, access to the bars listed above, raffle entry for prizes, free pictures of the event and specials.
Indoor Food Truck Takeover.
The
DMV Food Truck Association
is hosting the nation's first indoor food truck market, at the Hecht Warehouse District, in Washington D.C.  
Ok@Okie will run from

11:00AM to 5:00PM

on Saturday, April 2 at the Hecht Warehouse District at 16th Street and New York Avenue
,
Washington, DC 20002 in the Ivy City neighborhood of Washington, DC.
The event is free and open to the public.
Category: Announcements, Washington D.C.
Johnna French is a Harlem NY native with deep roots in Panama, Washington, DC and North Carolina. All four places have heavily influenced her life and the foods she loves today. After graduating Howard University School of Law and beginning her life as a young professional in the city she was led to start Johnna Knows Good Food in November 2007 to keep family, friends and colleagues updated on where to go and what to eat while dining in the nation's capitol. French, who still practices law, leads a team of three writers to cover the ever expanding Washington, DC food scene. French has been featured in print and television, appearing in Washingtonian Magazine and is a regular contributor to various local TV affiliates including WUSA 9, FOX 5 DC and WJLA (ABC Affiliate) News Channel 8. During the 2016-2017 football season, Johnna aired on Comcast Sports Mid-Atlantic (CSN) show, Redskins Life, as the weekly tailgate host. Johnna is currently a regular contributor to the FOX Baltimore Weekend morning show.
---