The days of viewing California Pizza Kitchen as just another quick pizza stop are long gone. California Pizza Kitchen has expanded its menu. I have always been a huge fan of California Pizza Kitchen for their Kung Pao Spaghetti, Caribbean Jerk Pizza and BBQ Chopped Chicken Salad, however, I ventured off during my recent visit to try their brand new items. I am always a little hesitant because usually when I identify my top dishes on a menu, I stick with them.  I, however, did not leave feeling disappointed.
The new menu offers fresh, original flavors.  I, for example, would never think to order a pizza with an egg on top but it really is the right companion for the cheesy dish.  The Sunny Side Up Potato Pizza has shaved fingerling potatoes, applewood smoked bacon, caramelized leeks, parmesan, and mozzarella.  All of this comes together and are topped with two sunny side up eggs.  Since this pizza does not have sauce as a base, I recommend taking a slice and dipping it in the egg yolk.  Trust me, it is delicious!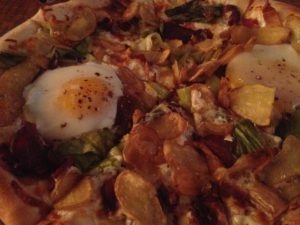 My next recommendation is the Harvest Kale Salad, which features baby kale, toasted farro, roasted butternut squash, Napa cabbage, shaved pear, marinated cranberries, spiced pecans and goat cheese tossed with housemade citrus vinaigrette.  This salad was good after the semi-heavy pizza containing the potatoes and bacon.  Kale salad is often a difficult salad to nail because kale can tend to be one of the rougher greens.  The chef knew just how and when to toss this salad so all the ingredients came together to create the right textural balance.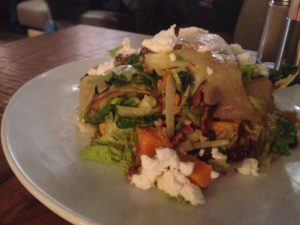 My favorite of the night was the Hearth-Roasted Halibut.  I was particulrly looking forward to trying this one after seeing it cooking in the pizza oven.  I thought this was a very unique method of sealing in the natural juices and flavors of the fish.  The halibut contains Wild caught Alaskan Halibut roasted on a cedar plank with grilled asparagus and butternut squash farro & baby kale.  Have you ever gotten a meal and had to force yourself to eat extra slow for fear that you may devour it and regret not having anything left?  This would qualify as that meal for me.  When I took this first bite, I literally sat back in my chair and had closed my eyes for a few moments to truly enjoy every flavor profile.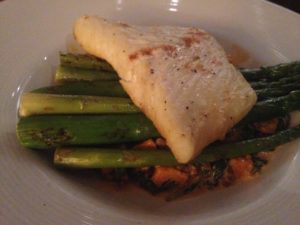 As you are doing your last minute prep for the holidays, slide over to California Pizza Kitchen located at Westfield Montgomery Mall.  You can kill two birds with one stone: getting your last minute shopping done and enjoying a nice relaxing meal.  However, if you do not have time to sit down and enjoy a meal, online ordering is also an option.
Westfield Montgomery
7101 Democracy Blvd.
Bethesda, MD 20817
(301) 469-5090
Category: MD, restaurant reviews, Reviews, Washington D.C.
---