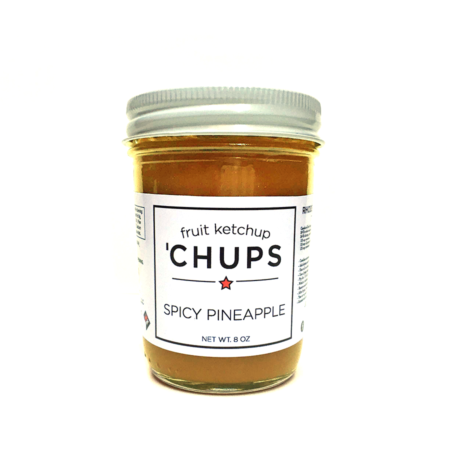 Long gone are the days of your basic ketchup for your backyard BBQ.  A local company, 'Chups, is seeing to it that ketchup gets a proper facelift.  Receiving a line of ketchup products did not excite my palate until the variety showed up at my front door.  With flavors like blueberry, cherry, mango, plum and peach, I began to expand on my idea of the typical "ketchup".  Could ketchup really be sweet?  Could it still make my savory burger stand out??  It passed the test.
'Chups is a step away from the monotonous tomato flavor that we look for in ketchup.  Boosting the tomato based sauce with flavors such as blueberry and pineapple are what make this product stand out.  It challenges our ideas of what can play a supporting role to our fave hot dogs, burgers and fries.  Expanding outside of the BBQ territory, 'Chups would make a nice dipping sauce for your favorite steak and/or baked salmon.  Season your meat with a little salt and pepper and let 'Chups do the rest.  As I tried each sauce, I got increasingly excited at the possibilities.
'Chups surprised me.  The labels had me dreading tasting another jelly/jam flavored wannabe ketchup. 'Chups is a ketchup.  It is simply carving out its own lane and I like where this is going.
Category: Product Review, Reviews, sauces, Washington D.C.
Johnna French is a Harlem NY native with deep roots in Panama, Washington, DC and North Carolina. All four places have heavily influenced her life and the foods she loves today. After graduating Howard University School of Law and beginning her life as a young professional in the city she was led to start Johnna Knows Good Food in November 2007 to keep family, friends and colleagues updated on where to go and what to eat while dining in the nation's capitol. French, who still practices law, leads a team of three writers to cover the ever expanding Washington, DC food scene. French has been featured in print and television, appearing in Washingtonian Magazine and is a regular contributor to various local TV affiliates including WUSA 9, FOX 5 DC and WJLA (ABC Affiliate) News Channel 8. During the 2016-2017 football season, Johnna aired on Comcast Sports Mid-Atlantic (CSN) show, Redskins Life, as the weekly tailgate host. Johnna is currently a regular contributor to the FOX Baltimore Weekend morning show.
---