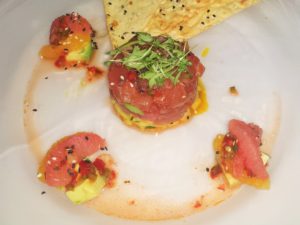 Eddie V's Prime Seafood is a newly opened seafood and steakhouse, located in Tysons Corner One Tower. The restaurant serves lunch, has a daily happy hour from 4-7pm, and dinner service with live jazz or blues music nightly. The restaurant has a bar and lounge area, a dining room and two private dining rooms for the events. The decor is modern with marble walls and walls of windows. It has a lively, energized vibe, a grown and sexy feel to it. In addition to a creative cocktail list,  Eddie V's has an extensive wine list. What is great about their wine selection is that they have included some wines that are a great value so that everyone can afford to enjoy a glass or share a bottle of wine over their meal. I highly recommend checking out their "interesting wine selection" in the wine list. If you would like some guidance, one of Eddie V's sommeliers which will be happy to guide you through the list of over 200 domestic and international wines to go with your meal.
My husband and I were lucky to be invited to try the "sneak peek" menu. Our favorite dishes were the tuna tartare, the swordfish topped with crab, and the filet mignon served oscar style. The tuna tartare featured fresh chopped tuna atop minced mango, topped with micro-greens and vinaigrette, with little garnishes of avocado, orange and grapefruit segments, and sprinkled with sesame seeds. The tuna tartare was accompanied by three crisps, which added a nice textural contrast. The swordfish with crab was cooked perfectly, and had great flavor and texture. The sauce had a nice light acidity that played really nicely with the great natural flavor of a fresh swordfish filet and sweet lump crab meat. My husband who does not normally (I mean closer to never) choose seafood over steak was incredibly pleased with the swordfish.The Filet Mignon served Oscar style was the best steak I have ever eaten. The meat was cooked perfectly (I like my steak medium rare). It was so incredibly tender and juicy it pretty much just melts in your mouth. This incredible piece of meat was topped with crab meat and is then served with Hollandaise sauce. The crab was delicious as well and the hollandaise sauce had proper flavor and texture. The filet is served with crisp asparagus.  
We will return, and until we do, the filet mignon will haunt my dreams in the best way possible.
Category: restaurant reviews, Reviews, VA, Washington D.C.
---