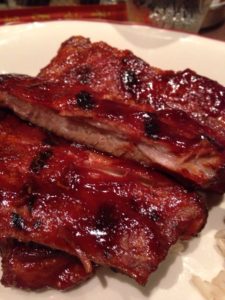 If you have not had the barbecue at DCity Smokehouse, then you are missing out.  From the looks of their social media shares, Washingtonians are really feeling this place.  The Super Bowl is the ideal time to do a taste test and make the food preparation easy for you if your hosting.  If you're not hosting, this is a good way to make sure you are invited to next years annual football shindig.  
DCity Smokehouse is offering a Picnic basket package just in time for the big game on Sunday. For $70 you can feed a gang of 5 with 2 pounds of pork ribs and tips, 15 pit smoked wings or a whole chicken, 1 pound of any meat by the slice ( brisket, turkey, chopped pork or pork belly), and 5 small sides. Orders can be placed by visiting dcitysmokehouse.com/catering or calling 202-733-1919.
Location:
(at the intersection of Florida & Capitol)
Date/Time:
During Normal Business Hours Tuesday, Jan 27- Sunday, Feb 1
Thursday–Saturday Noon-9pm
Sunday Noon-6pm
Category: Announcements, Washington D.C.
Johnna French is a Harlem NY native with deep roots in Panama, Washington, DC and North Carolina. All four places have heavily influenced her life and the foods she loves today. After graduating Howard University School of Law and beginning her life as a young professional in the city she was led to start Johnna Knows Good Food in November 2007 to keep family, friends and colleagues updated on where to go and what to eat while dining in the nation's capitol. French, who still practices law, leads a team of three writers to cover the ever expanding Washington, DC food scene. French has been featured in print and television, appearing in Washingtonian Magazine and is a regular contributor to various local TV affiliates including WUSA 9, FOX 5 DC and WJLA (ABC Affiliate) News Channel 8. During the 2016-2017 football season, Johnna aired on Comcast Sports Mid-Atlantic (CSN) show, Redskins Life, as the weekly tailgate host. Johnna is currently a regular contributor to the FOX Baltimore Weekend morning show.
---