RECAP:  On Saturday November 1st event planner Andre Wells threw his highly anticipated, annual costume party at the Andre Mellon Auditorium.  Usually used for the city's largest galas and high profile weddings, this was the events biggest venue to date. Event partner Design Cuisine treated the 300+ invite only guests to a menu just as extravagant as the party and venue itself.  In addition to passed bites such as chicken and waffles and duck pot stickers, the menu boasted 4 amazingly decadent buffet stations:
BUFFET STATION #1 MOLECULAR SAVORY FOAM SMALL PLATES potatoes & peas & carrots | crispy ham | smoked cheese foam wild mushroom + maderia en Croute | hollandaise foam corn flake chicken fried chicken | sweet potato puree | maple + bacon foam beef short rib | parsnip puree | horseradish foam
BUFFET STATION #2 MINI FRY BASKETS Gourmet petite burgers served in authentic stainless fry baskets paired with fresh fries CHICKEN BURGERS + SWEET POTATO FRIES white cheddar | tomato | arugula pesto | focaccia bun | sweet potato fries BEEF SHORT RIB BURGER + CRISPY ONION TOTS wine braised | horseradish cream | crispy onion tots WHEATBERRY BURGER + RAW JICAMA FRIES vegan burger | whole wheat sesame bun | cashew hummus | bibb lettuce CRAB BURGERS + CHESAPEAKE WAFFLE FRIES remoulade | old bay profiteroles
BUFFET STATION #3 Skillets & Jars MINI SKILLET BRISKET AND CORN SPOONBREAD individual cast iron skillets |  corn spoon bread | slow smoked brisket | molasses BBQ drizzle SKILLET ROASTED CHICKEN sauteed cranberries and shallots | apple wedges | maple cider sauce RUSTIC FIVE MUSHROOM TART shiitake | morel | enoki | chanterelle | cremini SANTORINI GRILLED SHRIMP SALAD JAR tomatoes | peppers | kalamata olives | feta | lemon-oregano vinaigrette TOMATO, AVOCADO AND GRILLED CORN SALAD JAR cucumbers | arugula | shaved ricotta salata | pumpkin seeds APPLE WALNUT QUINOA SALAD JAR gouda | dried cranberries | fennel | sherry vinaigrette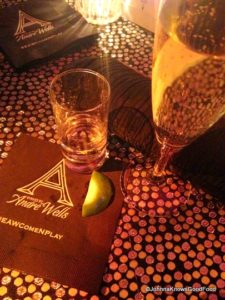 BUFFET STATION #4 HOT SALT + SPICE BAZAAR Chef attended Aromatic spice jars and hot pink salt slabs laden with seared meats and fresh vegetables diver scallops | beef tenderloin | lamb tenderloin | wild salmon   cucumber | heirloom tomato | daikon | red radish | peppers sauces –  tikki masala | rogan josh | mango chutney | tamarind | raita |  achaar naan | onion + sage | garlic + herb | wheat
The nights signature cocktail was the "Bad Apple," made with dark spiced rum and garnished with a cinnamon stick. Let's not forget the tequila cat that made several rounds through out the night gifting guests with shots.  Desert was nothing to sneeze at either. Highlights included carmelized pumpkin cordials and chocolate peanut butter hand pies.
Now that's how to feed a room full of hungry socialites and taste makers.
Category: Announcements, Washington D.C.
Johnna French is a Harlem NY native with deep roots in Panama, Washington, DC and North Carolina. All four places have heavily influenced her life and the foods she loves today. After graduating Howard University School of Law and beginning her life as a young professional in the city she was led to start Johnna Knows Good Food in November 2007 to keep family, friends and colleagues updated on where to go and what to eat while dining in the nation's capitol. French, who still practices law, leads a team of three writers to cover the ever expanding Washington, DC food scene. French has been featured in print and television, appearing in Washingtonian Magazine and is a regular contributor to various local TV affiliates including WUSA 9, FOX 5 DC and WJLA (ABC Affiliate) News Channel 8. During the 2016-2017 football season, Johnna aired on Comcast Sports Mid-Atlantic (CSN) show, Redskins Life, as the weekly tailgate host. Johnna is currently a regular contributor to the FOX Baltimore Weekend morning show.
---