The Silver Line has truly made Tysons Corner a more appealing place for me.  Being a person that lives on the train, this allows me to venture outside of my comfort zone in the District for dining options.  Wildfire Steaks, Chops & Seafood is one of those places I would not have ventured to, but the Silver Line combined with the good food here may have changed my mind.  Wildfire is the sister restaurant to Mon Ami Gabi, Big Bowl and Joe's Seafood Prime Steak & Stone Crab.  They host monthly dinners to highlight different areas of the cuisine and recently I had the opportunity to visit for their Taste of Lettuce VA dinner.  My favorite of the evening was Chef Eddie's Feta Crusted New York Strip Steak.  Phenomenal.  And who knew Wildfire was a sharing place?!  They gave each of the attendees a copy of the recipe, so you know I had to share with you guys.  Here you go and please try this at home!  It will change the way you look at feta and steak forever.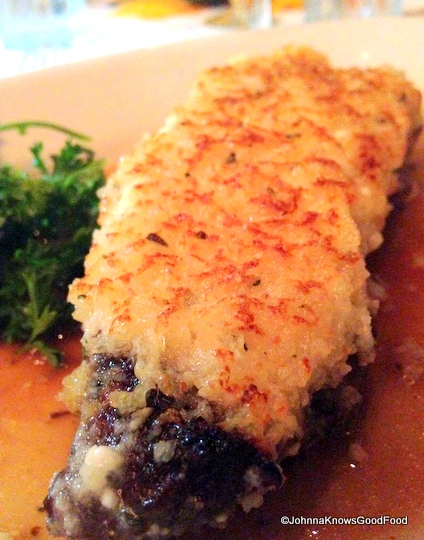 Chef Eddie's Feta Crust
1lb. softened unsalted butter
½ tbsp. minced garlic
1 tsp. minced fresh rosemary
2 cups panko breadcrumbs
½ tsp salt & pepper
1 tsp. minced fresh thyme
½ lb. crumbled feta cheese
Directions:
Whip butter for about 4-5 minutes on 2nd speed, scrape sides well, whip for another 2 minutes.  Add all remaining ingredients except the breadcrumbs, and mix for 1 minute.  Add breadcrumbs and mix for 30 seconds.  Scrape into hotel pan lined with plastic wrap and refrigerate.
Category: Recipes, restaurant reviews, Reviews, VA
Johnna French is a Harlem NY native with deep roots in Panama, Washington, DC and North Carolina. All four places have heavily influenced her life and the foods she loves today. After graduating Howard University School of Law and beginning her life as a young professional in the city she was led to start Johnna Knows Good Food in November 2007 to keep family, friends and colleagues updated on where to go and what to eat while dining in the nation's capitol. French, who still practices law, leads a team of three writers to cover the ever expanding Washington, DC food scene. French has been featured in print and television, appearing in Washingtonian Magazine and is a regular contributor to various local TV affiliates including WUSA 9, FOX 5 DC and WJLA (ABC Affiliate) News Channel 8. During the 2016-2017 football season, Johnna aired on Comcast Sports Mid-Atlantic (CSN) show, Redskins Life, as the weekly tailgate host. Johnna is currently a regular contributor to the FOX Baltimore Weekend morning show.
---