With a new fall menu launching at Ovvio Osteria this week, it is time for you to stop all of the excuses (for Pete's sake it's a few blocks away from the metro) and head over to Merrifield, VA. If you haven't been out to this city within a city, you should as it is absolutely amazing with Angelika Film Center, various retail shops, and fabulous restaurants, including Ovvio Osteria. With a new menu it is really hard to pick just five dishes, especially with over 30+ to choose from, but don't worry JKGF did the hard work for you. Here's our favorite five:
Baked Clams
saffron, white wine, garlic, oregano, parmesan
Fritto Miso
squid, vegetable, Italian parsley aioli & marinara
Sweet Italian Sausage
house-made sausage, tomato, mozzarella, rapini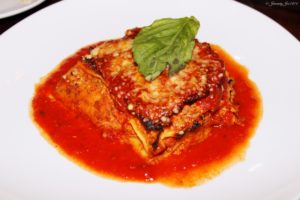 Lasagna Bolognese
veal, beef, pork, tomato, ricotta, parmesan
Bomboloni
Italian ricotta "doughnuts," chocolate sauce
Ovvio Osteria
Category: restaurant reviews, Reviews, VA, Washington D.C.
An ambitious freelance photographer who just happens to be a football fanatic, an avid baker, concert junkie, and wanderlust. "I can't stand people who do not take food seriously." ~Oscar Wilde
---