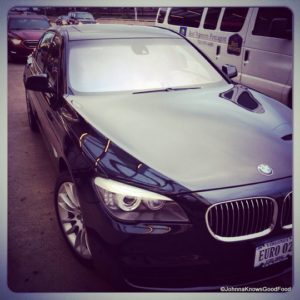 Getting around these DC streets can be difficult if you are thinking about driving, which is why I welcomed the opportunity to try out Blacklane Limousine services.  Not a direct correlation to food except for the fact that you can reach your dinner date in style, Blacklane boasts an impressive fleet.  When the 7 series BMW pulled up to my residence to take me to the airport, I felt like royalty.  I decided to use my trip for a transport to Reagan National Airport since traffic, parking and the like can be headache when trying to get out of town in the District.
Lucky for us, the BMW had some serious horsepower because when my plus one forgot an important asset at home, we had to zip back to my house and get back to the airport in time to catch our flight.  Close call!  We made it and all was well especially since we had chosen First Class service and you could barely feel the bumps in the road of the DC streets.  Blacklane is one of those services you use when you want comfort, service (Mr. Erguven was exceptional) and expedited transportation.  Since I require all of these during many of my food expenditures, I will be using Blacklane again.  Soon.
Category: MD, Product Review, Reviews, VA, Washington D.C.
Johnna French is a Harlem NY native with deep roots in Panama, Washington, DC and North Carolina. All four places have heavily influenced her life and the foods she loves today. After graduating Howard University School of Law and beginning her life as a young professional in the city she was led to start Johnna Knows Good Food in November 2007 to keep family, friends and colleagues updated on where to go and what to eat while dining in the nation's capitol. French, who still practices law, leads a team of three writers to cover the ever expanding Washington, DC food scene. French has been featured in print and television, appearing in Washingtonian Magazine and is a regular contributor to various local TV affiliates including WUSA 9, FOX 5 DC and WJLA (ABC Affiliate) News Channel 8. During the 2016-2017 football season, Johnna aired on Comcast Sports Mid-Atlantic (CSN) show, Redskins Life, as the weekly tailgate host. Johnna is currently a regular contributor to the FOX Baltimore Weekend morning show.
---