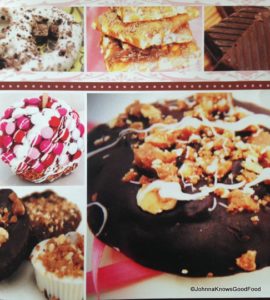 Let me start this post by saying Brittle is not my scene.  You would be hard pressed to find me ordering it from any menu, which is why I surprised myself when I agreed to give Natasha's Just Brittle a go.  One thing you will learn about my reviews is that if I typically do not like something and you convince me otherwise, that equals the two thumbs up sign.  Two thumbs up are due here.
Expecting the boring blend of simply sugar and more sugar, Natasha's Just Brittle was just the opposite.  Perhaps it's the fact that her products are slow cooked with a secret blend of organic sugar, fresh nuts, sea salt leaving out the corn syrup that is so common in most brittle's.  Boasting over 30 different flavors that I cannot try in one sitting or my dentist would kill me, I took a liking to the three flavors I had the opportunity to taste test.
The cashew brittle and mixed nut brittle should be my way of consuming my share from the bean family daily.  The cashew brittle gives the gentle reminder of why butterscotch is so appreciated in sweet treats but is so rich that it would be impossible for me to finish in one sitting.  The cracker jack brittle is exactly what its name suggest without the artificial aftertaste that comes from the over processed stuff.
For the brittle lover or non-lover in your life, I would suggest Natasha's Just Brittle.  Who knew a Banana Split and Cookies n' Cream could make it in the age old snack?!  Something new.
Category: Product Review
Johnna French is a Harlem NY native with deep roots in Panama, Washington, DC and North Carolina. All four places have heavily influenced her life and the foods she loves today. After graduating Howard University School of Law and beginning her life as a young professional in the city she was led to start Johnna Knows Good Food in November 2007 to keep family, friends and colleagues updated on where to go and what to eat while dining in the nation's capitol. French, who still practices law, leads a team of three writers to cover the ever expanding Washington, DC food scene. French has been featured in print and television, appearing in Washingtonian Magazine and is a regular contributor to various local TV affiliates including WUSA 9, FOX 5 DC and WJLA (ABC Affiliate) News Channel 8. During the 2016-2017 football season, Johnna aired on Comcast Sports Mid-Atlantic (CSN) show, Redskins Life, as the weekly tailgate host. Johnna is currently a regular contributor to the FOX Baltimore Weekend morning show.
---