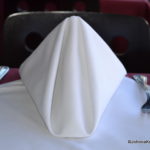 Thanks to my Aunt Belle for this week's Etiquette Tip.  Do you have some socks for me to put on when you ask me to take my shoes off at your house?  I have been to one too many homes where the resident asks you to take your shoes off but they have the nastiest carpet or floors known to mankind.  Why would I want to leave my shoes at the door??  I get it.  Some people do it for culture reasons, some because they simply do not want to have dirty prints on their light colored carpet (*yours truly included) and some just because they are afraid of what you might be tracking through their homes.
My Aunt Belle was the one who taught me the sock rule because she refuses to have any foot traffic in her house with shoes on (*which was prohibited after her two-year old grandson came in the house one day after they were out and put his feet on the couch smearing dog poop that he had mistakenly stepped in while they were out…you can imagine the smell and how this traumatized my aunt leading to her new rule).  She explained she understood people's hesitation to take their shoes off but you should offer your guests some socks (*grab a $5 pack whenever you head to your local Target/Walmart).  I totally agree because sometimes you go to people's houses and they have pets (*who spend time outside without shoes and trek back in the house without wiping their feet) or you really do not want everyone to see your non-manicured toes.
I spent a little more time on this particular topic because it is probably the one that annoys me the most where some people have the living conditions of a slum (*kitchen and bathroom hygiene included), but you want me to take off my $200+ shoes and leave them at the door?!?  *Side eye* Right…
Category: Etiquette Tuesday
Johnna French is a Harlem NY native with deep roots in Panama, Washington, DC and North Carolina. All four places have heavily influenced her life and the foods she loves today. After graduating Howard University School of Law and beginning her life as a young professional in the city she was led to start Johnna Knows Good Food in November 2007 to keep family, friends and colleagues updated on where to go and what to eat while dining in the nation's capitol. French, who still practices law, leads a team of three writers to cover the ever expanding Washington, DC food scene. French has been featured in print and television, appearing in Washingtonian Magazine and is a regular contributor to various local TV affiliates including WUSA 9, FOX 5 DC and WJLA (ABC Affiliate) News Channel 8. During the 2016-2017 football season, Johnna aired on Comcast Sports Mid-Atlantic (CSN) show, Redskins Life, as the weekly tailgate host. Johnna is currently a regular contributor to the FOX Baltimore Weekend morning show.
---