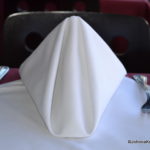 Continuing the conversation on tagging photos, what about the photos that should never make it to social media in the first place?  This week's Etiquette Tip is discretion, discretion, discretion.  Discretion is key in the social media realm.  Where the world wide web shows us that the six degrees of separation is a real thing, it is key that you use discretion in what you Tweet, Facebook, Instagram, etc. where you may think "Only my friends are seeing this, so it's ok".  What if one of your friends is not ok with some of the friends you have seeing pics from that scandalous weekend in Vegas??  This message especially goes for those folks that are friends with the ex of yours and feel the need to update their timeline with every outing you share together with detailed descriptions of the location and the night's festivities.
I get it.  Some people have a small "circle" on Facebook (*which mind you, 200 friends, is still not small in the grand scheme of things) or there are those older relatives that only want to share with long lost family.  My suggestion for these people are to create a super private photo space on Facebook for the 8-10 of your real small "circle" and share on!  I promise a lot of relationships will be saved with this simple rule.
Category: Etiquette Tuesday
Johnna French is a Harlem NY native with deep roots in Panama, Washington, DC and North Carolina. All four places have heavily influenced her life and the foods she loves today. After graduating Howard University School of Law and beginning her life as a young professional in the city she was led to start Johnna Knows Good Food in November 2007 to keep family, friends and colleagues updated on where to go and what to eat while dining in the nation's capitol. French, who still practices law, leads a team of three writers to cover the ever expanding Washington, DC food scene. French has been featured in print and television, appearing in Washingtonian Magazine and is a regular contributor to various local TV affiliates including WUSA 9, FOX 5 DC and WJLA (ABC Affiliate) News Channel 8. During the 2016-2017 football season, Johnna aired on Comcast Sports Mid-Atlantic (CSN) show, Redskins Life, as the weekly tailgate host. Johnna is currently a regular contributor to the FOX Baltimore Weekend morning show.
---