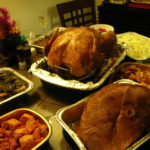 1 (29 ounce) can sweet potatoes (drained)
1/4 cup butter (sliced into pieces)
1/2 cup brown sugar
1 tsp. imitation vanilla
1 dash of ground cinnamon
Pinch of ground nutmeg
1 1/2 cups marshmallows
Preheat oven to 400 degrees. Add the sweet potatoes to a medium baking dish. Distribute butter pieces evenly over the sweet potatoes. Sprinkle with brown sugar, vanilla, cinnamon and nutmeg; slightly mix to incorporate all ingredients. Cover and bake in the oven for 20 minutes; top with marshmallows and continue to bake uncovered for an additional 5-10 minutes until sweet potatoes are tender and marshmallows are melted and just browning. Serve.
*Johnna's tip: The holidays are not over! Thanksgiving ushered in all the good sweet potato, pumpkin and turkey recipes but there are still more to come. Now until the end of December, let's see how creative we all can get, send JKGF all of your winter recipes so we can post them (johnnaknowsgoodfood@gmail.com). We had a wonderful Thanksgiving and shared this recipe with our family, who are probably our top critics…they gave this a thumbs up so it might be worth a try. Enjoy!
Category: holiday cooking, Recipes
Johnna French is a Harlem NY native with deep roots in Panama, Washington, DC and North Carolina. All four places have heavily influenced her life and the foods she loves today. After graduating Howard University School of Law and beginning her life as a young professional in the city she was led to start Johnna Knows Good Food in November 2007 to keep family, friends and colleagues updated on where to go and what to eat while dining in the nation's capitol. French, who still practices law, leads a team of three writers to cover the ever expanding Washington, DC food scene. French has been featured in print and television, appearing in Washingtonian Magazine and is a regular contributor to various local TV affiliates including WUSA 9, FOX 5 DC and WJLA (ABC Affiliate) News Channel 8. During the 2016-2017 football season, Johnna aired on Comcast Sports Mid-Atlantic (CSN) show, Redskins Life, as the weekly tailgate host. Johnna is currently a regular contributor to the FOX Baltimore Weekend morning show.
---