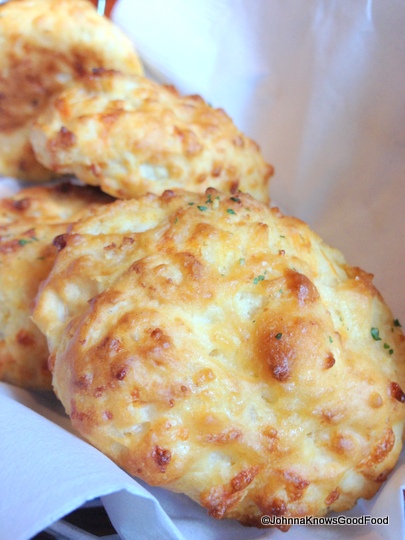 A few nights ago while waiting on Modern Family to return from commercial break, the Red Lobster monthly special flashed across my screen.  The "Crabfest" is back and it made me start to salivate immediately.  Now some of you are judging me now and some of you are totally with me on this craving.  If you are above the age of 25, you can probably remember a time when Red Lobster was the place to go on family night out.  Now with the plethora of restaurants cultivating the restaurant scene, the throwback chain seems to be getting a bad rap.  I had to revisit my childhood and see why Red Lobster took over the dining scene in the 1980's.
Undeniably, Red Lobster's cheddar biscuits are as addictive as McDonald's French fries.  On my return, I was immediately reminded of this fact and I proceeded to feel the emotions of excitement that were often aroused during my childhood when the time came to visit Red Lobster.  Now in my adult life, I know two things about myself: I love, love, love greasy stuffed mushrooms and lobster.  Red Lobster has both on their menu and has consistently priced them both where I can visit on an arbitrary Wednesday afternoon.  If you are like me, then sometimes you want to take a trip down memory lane.  If you are also like me and are on a budget, then now is a good time to revisit that memory while Red Lobster is hosting one of their many specials.  Chow down.
Category: Announcements, Food.Fun.Stuff., restaurant reviews, Washington D.C.
Johnna French is a Harlem NY native with deep roots in Panama, Washington, DC and North Carolina. All four places have heavily influenced her life and the foods she loves today. After graduating Howard University School of Law and beginning her life as a young professional in the city she was led to start Johnna Knows Good Food in November 2007 to keep family, friends and colleagues updated on where to go and what to eat while dining in the nation's capitol. French, who still practices law, leads a team of three writers to cover the ever expanding Washington, DC food scene. French has been featured in print and television, appearing in Washingtonian Magazine and is a regular contributor to various local TV affiliates including WUSA 9, FOX 5 DC and WJLA (ABC Affiliate) News Channel 8. During the 2016-2017 football season, Johnna aired on Comcast Sports Mid-Atlantic (CSN) show, Redskins Life, as the weekly tailgate host. Johnna is currently a regular contributor to the FOX Baltimore Weekend morning show.
---