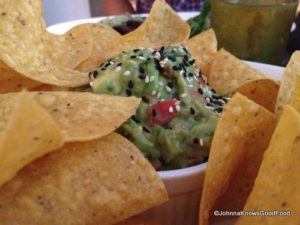 1. To kick off football season, starting the weekend of Saturday, September 7th and continuing on Saturdays and Sundays throughout the season, Astro will offer a special tailgate package to include a dozen doughnuts and a dozen wings for $42. The offering includes three maple bacon doughnuts, crème brûlée doughnuts, three PB&J doughnuts, and three vanilla glazed doughnuts in addition to a dozen sriracha or spicy garlic wings. Call 202-809-5565 an hour in advance to place an order.
2. At Del Campo, where Victor Albisu is offering a tailgating class this Saturday at noon in advance of the Redskins' Monday night opener, the restaurant is offering its happy hour from 4pm to close on Sundays and Mondays beginning Sept 8.
Del Campo, 777 I St NW, Washington, DC. (202) 289-7377. delcampodc.com
3. At his FallChurch taqueria, Taco Bamba, Albisu is offering  a Take Home 12 Pack – perfect fuel for a viewing party. For $32, build your own taco dozen by choosing up to three different fillings from the following options. Call ahead or order at the restaurant.  Taco Bamba, 2190 Pimmit Dr, Idylwood, VA . (703) 639-0505. tacobambarestaurant.com
4. At G, Mike Isabella has put together the Italian Stallion. The heroically proportioned grinder includes prosciutto, salami, capicolla, fresh mozzarella, pickled purple eggplant and is dressed with the works. The massive, 36-inch sandwich is piled to the rafters and serves 12 to 15 people for $95. G, 2201 14th St NW, Washington, DC. (202) 234-5015. gsandwich.com
Category: Announcements, Food.Fun.Stuff., Washington D.C.
Johnna French is a Harlem NY native with deep roots in Panama, Washington, DC and North Carolina. All four places have heavily influenced her life and the foods she loves today. After graduating Howard University School of Law and beginning her life as a young professional in the city she was led to start Johnna Knows Good Food in November 2007 to keep family, friends and colleagues updated on where to go and what to eat while dining in the nation's capitol. French, who still practices law, leads a team of three writers to cover the ever expanding Washington, DC food scene. French has been featured in print and television, appearing in Washingtonian Magazine and is a regular contributor to various local TV affiliates including WUSA 9, FOX 5 DC and WJLA (ABC Affiliate) News Channel 8. During the 2016-2017 football season, Johnna aired on Comcast Sports Mid-Atlantic (CSN) show, Redskins Life, as the weekly tailgate host. Johnna is currently a regular contributor to the FOX Baltimore Weekend morning show.
---