This trip was worth it.  The recent trip I took into Northern Virginia (NOVA) to the newly opened Osteria Marzano.  After learning that the co-owner's mother is the mastermind behind the team at DC's Famous Luigi's, there was no need for an introduction to the food…it had to be good.  The fried mozzarella could not stay away from my fingers and the things they do with pasta make you wonder why they make it a tad difficult to get to their location.  They should be front and center showing off their hot stuff.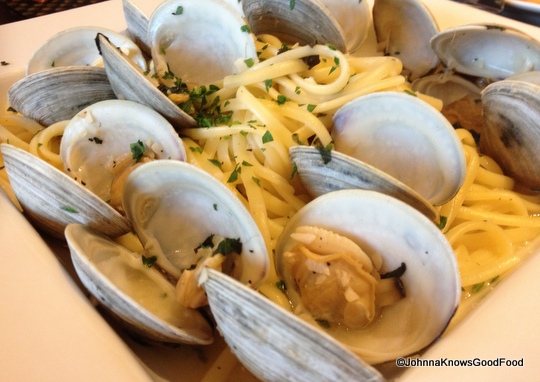 The Mediterranean Orata was a disappointment where the menu boasted a whole fish and what came out was basically a fillet.  The nutella pizza capped things off with a shock to the senses:  Piping hot nutella topped with marshmallows.  These are things that do not fly well during bikini season but they sure do make it nice for those days of much needed comfort.  Not excited to see the summer exit, but the fall is looking warmer and cozier if places like this continue to make their way to the DC area…
Category: restaurant reviews, Washington D.C.
Johnna French is a Harlem NY native with deep roots in Panama, Washington, DC and North Carolina. All four places have heavily influenced her life and the foods she loves today. After graduating Howard University School of Law and beginning her life as a young professional in the city she was led to start Johnna Knows Good Food in November 2007 to keep family, friends and colleagues updated on where to go and what to eat while dining in the nation's capitol. French, who still practices law, leads a team of three writers to cover the ever expanding Washington, DC food scene. French has been featured in print and television, appearing in Washingtonian Magazine and is a regular contributor to various local TV affiliates including WUSA 9, FOX 5 DC and WJLA (ABC Affiliate) News Channel 8. During the 2016-2017 football season, Johnna aired on Comcast Sports Mid-Atlantic (CSN) show, Redskins Life, as the weekly tailgate host. Johnna is currently a regular contributor to the FOX Baltimore Weekend morning show.
---