Brunch is one of my favorite pastimes.  Unfortunately, everyone in the District feels the same way so the brunch calendar in the city is already booked up until September.  For this reason alone I am a fan of restaurants like The Curious Grape.  I recently visited for Sunday brunch and besides the delightful flight of Bloody Marys in a few of my favorite flavors, the no wait seating was the most appealing.  Don't be misunderstood, however, there were patrons throughout the entire restaurant but there was a flow that seemed to keep customers coming in and space opening up for each person who entered the restaurant.  Perhaps it's the space that the restaurant has or maybe it's the efficiency of the restaurant in turning over tables that made things run so smoothly.  Whatever it was it worked for me.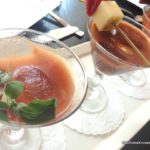 The menu raised my curiousity about the person prepping the dishes in the back.  The brunch menu goes all over the place.  You would either appreciate the broad range or be irritated to find that your favorite bacon and eggs breakfast is not lining the menu.  For the curious grape in you, however, you will be intrigued by dishes such as the Austrian Pancake Souffle and the Chinese Breakfast, which is a true trip through authentic Chinese fare.  Brunch does equal a lunch portion, which the Curious Grape does a good job at with their Spice-Roasted Chicken versus their Penne Pasta, which ironically disappoints with little to no flavor.
Brunch should be a time of R&R with plenty o' food and libations.  The Curious Grape ensures you have all the tools you need for a good brunch.  No wait, plenty of diverse dining options and a playful cocktail menu…brunch anyone??
*The Curious Grape, 2900 South Quincy Street, Arlington, VA 22206
Category: Announcements, Brunch, Food.Fun.Stuff., VA
Johnna French is a Harlem NY native with deep roots in Panama, Washington, DC and North Carolina. All four places have heavily influenced her life and the foods she loves today. After graduating Howard University School of Law and beginning her life as a young professional in the city she was led to start Johnna Knows Good Food in November 2007 to keep family, friends and colleagues updated on where to go and what to eat while dining in the nation's capitol. French, who still practices law, leads a team of three writers to cover the ever expanding Washington, DC food scene. French has been featured in print and television, appearing in Washingtonian Magazine and is a regular contributor to various local TV affiliates including WUSA 9, FOX 5 DC and WJLA (ABC Affiliate) News Channel 8. During the 2016-2017 football season, Johnna aired on Comcast Sports Mid-Atlantic (CSN) show, Redskins Life, as the weekly tailgate host. Johnna is currently a regular contributor to the FOX Baltimore Weekend morning show.
---