Last Wednesday, I was in a panicked frenzy.  I had invited a friend over for dinner and had no idea what to cook, what stores I wanted to invest my energy into getting the food and there was plenty o' work to be done.  Time was limited needless to say.  I woke up with the aching feeling of "what am I going to do when I have barely enough time in my day to feed my fish".  An email popped up in my account from Scratch DC reminding me of my delivery that day and all my worries faded away!
Scratch DC is an awesome new concept that is gathering buzz around the DC food scene.  The concept is simple:  they post/create a meal for each day of the week on their site, you can order what meal you want on the site and they deliver the meal to your door on the day that you selected.  What makes this different from takeout is your next question?  They deliver ALL of the FRESH ingredients to your door with step-by-step instructions on how to make each dish.  Scratch basically makes it more affordable and easier to get homemade dishes on your dinner table.  Instead of investing in an entire container of basil that you will only use a tsp of for a dish, Scratch gives you that pinch alongside the other ingredients perfectly measured out for that individual dish.
On this particular Wednesday, Chicken Tikka Masala was on the menu which came with Organic Free Range chicken breast, organic white onion, organic diced tomatoes, organic garlic, all natural yogurt, ginger, basmati rice, organic butter, sea salt, pepper, coriander, cumin, garam masala, peas and organic jalapeno.  Besides making my cooking life a thousand times easier, I appreciate Scratch's use of local farmers i.e. the chicken came from PA family farms via Murrays Naturals and the organic spices came from Vanns in Baltimore.  From the novice to the expert in the kitchen, Scratch is a service that can be used by everyone.  Simply put:  it makes things easier.  No grocery store run, no excess ingredients and no more measuring cups.  Sounds like a plan.
Below are a recap of how Scratch delivers.  P.S. It took me 30 minutes to cook dinner & I had leftovers for the next day after two healthy servings for dinner: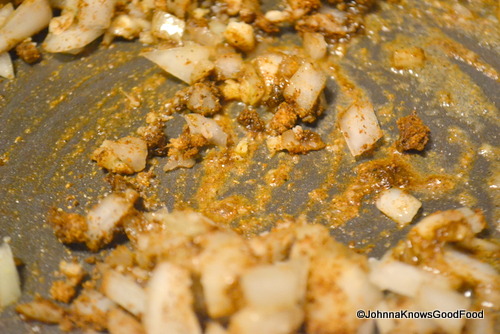 Category: Food.Fun.Stuff., Product Review, restaurant reviews, Washington D.C.
Johnna French is a Harlem NY native with deep roots in Panama, Washington, DC and North Carolina. All four places have heavily influenced her life and the foods she loves today. After graduating Howard University School of Law and beginning her life as a young professional in the city she was led to start Johnna Knows Good Food in November 2007 to keep family, friends and colleagues updated on where to go and what to eat while dining in the nation's capitol. French, who still practices law, leads a team of three writers to cover the ever expanding Washington, DC food scene. French has been featured in print and television, appearing in Washingtonian Magazine and is a regular contributor to various local TV affiliates including WUSA 9, FOX 5 DC and WJLA (ABC Affiliate) News Channel 8. During the 2016-2017 football season, Johnna aired on Comcast Sports Mid-Atlantic (CSN) show, Redskins Life, as the weekly tailgate host. Johnna is currently a regular contributor to the FOX Baltimore Weekend morning show.
---