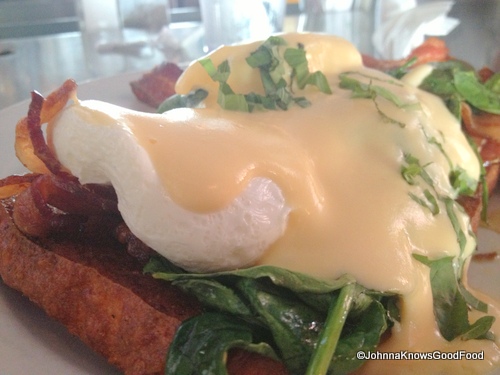 Miami is one of those towns where food is as much a part of the culture as the beach is to the scene.  On my last trip to the sunny city, I scouted out the top places for getting my food fix and Big Pink came across my radar.  Packed to capacity on a dreary Sunday morning, I had high expectations for Big Pink.  I squeezed in at a spot at the end of the long dated bar and was greeted by the waitress with an overwhelmingly large menu.  Big Pink has everything.  Fortunately, you can find almost any brunch item you want and unfortunately for me I chose the thing that sucked on the menu.
Pinky's Hollywood Breakfast was disappointing with my expectations resting on the dish being filled with a few of my favorite things:  polenta, bacon, sautéed spinach, poached eggs, cheese sauce and fresh basil.  It ended up being the equivalent of an outfit with too many accessories.  The staple breakfast spot on South Beach deserves another try with tons of other options to taste test.  I would suggest visiting during an off hour (if one even exists) and stay away from the Hollywood Breakfast.  Breakfast food is essential after a night (or day) on Miami's South Beach.
Category: restaurant reviews, Travels
Johnna French is a Harlem NY native with deep roots in Panama, Washington, DC and North Carolina. All four places have heavily influenced her life and the foods she loves today. After graduating Howard University School of Law and beginning her life as a young professional in the city she was led to start Johnna Knows Good Food in November 2007 to keep family, friends and colleagues updated on where to go and what to eat while dining in the nation's capitol. French, who still practices law, leads a team of three writers to cover the ever expanding Washington, DC food scene. French has been featured in print and television, appearing in Washingtonian Magazine and is a regular contributor to various local TV affiliates including WUSA 9, FOX 5 DC and WJLA (ABC Affiliate) News Channel 8. During the 2016-2017 football season, Johnna aired on Comcast Sports Mid-Atlantic (CSN) show, Redskins Life, as the weekly tailgate host. Johnna is currently a regular contributor to the FOX Baltimore Weekend morning show.
---