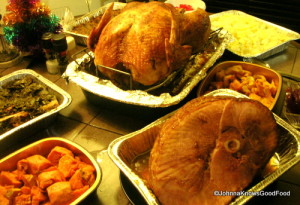 Whether you feel like cooking a little or cooking nothing at all, this roundup has a full list of how/where to get your Turkey Day fixings without all the cleanup.
Hill Country BBQ
is taking pre-orders for Thanksgiving To Go through November 16th. Pre-ordered turkeys, traditional sides and homemade desserts can be picked up from the restaurant from 9 am – noon on November 22nd. Full Thanksgiving feasts with all the fixin's range from $195 – $275; a la carte dishes available. To order, call
202.556.2044
 or email 
Events@HillCountryWDC.com
.
If you'd rather go out to eat on Thanksgiving Day, Hill Country will be open from noon til 8 PM with a special ALL YOU CAN EAT Thanksgiving supper for just $35 per person ($15 for kids 10 and younger).  The menu includes pit-smoked turkey with pan gravy, brisket, sausage, Texas Toast stuffing, bourbon mashed sweet potatoes, green bean casserole, collard greens, buttermilk smashed potatoes, cranberry sauce, apple cobbler, pumpkin ginger streusal pie, bourbon pecan pie and more.  They will be showing football on the big screens throughout the day, with the Redskins-Cowboys game at 4 PM and Texas Longhorns versus TCU at 7:30 PM. To reserve a table, please call the restaurant at 
202.556.2050
 or reserve online through OpenTable or CityEats.
Hill Country Barbecue Market
410 7th Street, NW – Washington, DC
Art and Soul hosts a southern-inspired Thanksgiving Day Buffet with all the trimmings. Chef Wes Morton has a menu lined with housemade maple ham, roasted local turkey and prime rib, cornbread andouille sausage, scallion mashed potatoes and pumpkin pie. The full menu is available online.  Guests will also receive a "leftover" roasted turkey sandwich with cranberry orange sauce and sage gravy to enjoy at home the next day.
When: Thanksgiving Day (Nov. 22), seatings are available from 11am-9pm
Pricing: Adults are $55, Children ages 6-12 are $25
Reservations: Reservations can be made by calling 202.393.7777 or visiting ArtandSoulDC.com.
Art and Soul
415 New Jersey Ave, NW
202.393.7777
Chefs Logan Cox and Alison Reed are now offering savory and sweet pies at Ripple's Sugar Magnolia. Guests can stop by the Cleveland Park shop or place advance orders for the holidays. All pies will come boxed with a ribbon. For advance orders or special requests, email Chef Alison Reed at alison@rippledc.com.
Savory Pies (6-inch, email to request pricing/place advance orders for 9-inch)
Broccoli, Prosciutto, Parmesan – $11 (6-inch)
Mushroom, Pine Nut, Sage – $10 (6-inch)
Smoked Albacore Tuna, Purple Potatoes, Rosemary – $11 (6-inch)
Zucchini, Kale, Shelling Peas, Purple Basil – $10 (6-inch)
Sweet Pies (6-inch, email to place advance orders for 9-inch)
Bourbon Caramel Pecan – $10 (6-inch) / $20 (9-inch)
Apple – $9 (6-inch) / $18 (9-inch)
Pumpkin Spice – $9 (6-inch) / $18 (9-inch)
Squash – $9 (6-inch) / $18 (9-inch)
Sugar Magnolia (storefront in front of Ripple)
3417 Connecticut Ave. NW
Sticky Fingers Sweets & Eats vegan bakery and cafe is featuring the following seasonal treats through the end of December. Items can be wrapped with bows upon request. Stop by the Columbia Heights shop or order in advance by calling 202.299.9700.
Gingerbread Whoopie Pies – $2.75 each
Peppermint Cupcakes, Eggnog Cupcakes, Mini Ginger Cranberry Loaves – $3 each
Snowflake Sugar Cookies – $2 each, Sugar Cookies (various shapes) – $10/box
Peppermint Brownies – $3.50 each
Gingerbread Men Cookies – $5 each (large), $3 each (small)
Mini Chocolate Cream Pies, Mini Pecan Pies – $5 each
Sticky Fingers Sweets & Eats
1370 Park Road, NW
BLT Steak DC will host its first annual Thanksgiving Day dinner on Thursday, November 22.  Executive Chef Jon Mathieson has created a menu lined with Roasted Turkey with Chestnut-Sausage Stuffing and Rosemary Gravy and a Dry Aged Roasted Prime Rib with Caramelized Onion Bread Pudding.  BLT Steak's Thanksgiving Day menu is available as a prix-fixe tasting at $68/person or a la carte. More information available online at:  http://www.e2hospitality.com/blt-steak-washington-dc/book-your-thanksgiving-at-blt-steak-dc/
Trademark in Alexandria is combining popular Thanksgiving dishes…in a pie. Trademark's Thanksgiving Pot Pie combines bourbon-spiked roast turkey, sweet potatoes, green beans, leeks, homemade gravy, sage and onion in a flaky puff pastry crust.  The Pot Pie is available during the week of Thanksgiving (Monday 11/19 – Sunday 11/25) for $18.
Pick up your side dishes at Bar Pilar.   'Sides + Pies' from 14th Street foodie spot Bar Pilar will be available via Chef Justin Bittner who is making sides for groups of two sizes: 5-7 people and 10-15 people; at $26 and $32 respectively. Sides include a Sage, Housemade Sausage and Apple Stuffing, a Broccoli Casserole with blue cheese béchamel and Candied Heirloom Sweet Potatoes. In terms of sweets, Bittner will sell a variety of pies for $28 including Apple Crumb, Bourbon Pecan and Heirloom Pumpkin. People can pre-order any 'Sides + Pies' through November 19th by caling 202-265-1751, with pick-up on Thanksgiving Eve, the 21st.
On the Sunday before Thanksgiving, Jack Rose Dining Saloon is celebrating with the 2nd annual Mutha Firkin Turkey Roast, a rooftop roast for beer lovers. On Sunday, November 18th starting at 6pm, Jack Rose will serve up a feast of spit-roasted turkeys, mashed potatoes, Brussels sprouts and more for $18 per person. To pair with the savory dishes, at 7 p.m. Jack Rose will tap its Firkin of Heavy Seas Peg Leg Stout which has been aged in a Stitzel Weller Barrel and spiced with Madagascar vanilla, cocoa nibs, allspice, orange peel and vanilla bean. For more information please call 202.588.7388 or email info@jackrosediningsaloon.com for details. Jack Rose is located at 2007 18th St. NW.
EPIC Smokehouse is offering a limited supply of turkey dinners for carryout that will feed up to 10 people. Pick up a 10-12lb turkey that can be cooked the way you like it, either smoked or fried.  Turkey dinners cost $70 and includes gravy along with your choice of three out of four homemade sides.  Selections include mashed potatoes, sweet potatoes, stuffing and creamed corn.  If you can't imagine Thanksgiving without all four items, an extra side can be purchased for an additional $10.  Orders must be placed to Joon Yang at 571.319.4001 by Sunday, November 18. They can be picked up at EPIC Smokehouse, on Thanksgiving Day, November 22, from 8am to 11am.
Happy Thanksgiving!!
Category: Announcements, Food.Fun.Stuff., holiday cooking, Washington D.C.
Johnna French is a Harlem NY native with deep roots in Panama, Washington, DC and North Carolina. All four places have heavily influenced her life and the foods she loves today. After graduating Howard University School of Law and beginning her life as a young professional in the city she was led to start Johnna Knows Good Food in November 2007 to keep family, friends and colleagues updated on where to go and what to eat while dining in the nation's capitol. French, who still practices law, leads a team of three writers to cover the ever expanding Washington, DC food scene. French has been featured in print and television, appearing in Washingtonian Magazine and is a regular contributor to various local TV affiliates including WUSA 9, FOX 5 DC and WJLA (ABC Affiliate) News Channel 8. During the 2016-2017 football season, Johnna aired on Comcast Sports Mid-Atlantic (CSN) show, Redskins Life, as the weekly tailgate host. Johnna is currently a regular contributor to the FOX Baltimore Weekend morning show.
---