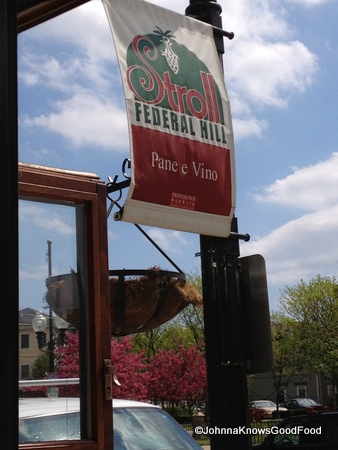 Recently I took a trip to Providence, Rhode Island.  Your initial thoughts about where this post is going were my initial thoughts before and during my flight into TF Green International Airport.  Boredom and blah seemed to take over my whole mind as I strolled through the airport wondering how I would fill my belly in a town full of chain restaurants.  Ignorance is a horrible thing because Providence is full of quirky little niche spots for the foodie in all cultures.  The acclaimed "Heartbeat of Providence", for instance, houses a string of Italian restaurants reminding me of times spent in the ancient city Rome meets small town American south.
Because I made this trek to Providence for a conference, it was expected that I would be housed in the Downtown center and the concierge would refer me to the restaurants within walking distance of the hotel.  The unfortunate thing about most major cities downtown centers are the restaurant scene is choke-full of chain style restaurants that lack representation of the cities true culture.  Providence served as no exception to this rule which is why I had to find another outlet into the true cuisine pulse of Providence.  As luck would have it, I ended up getting in touch with the Mayor through a string of good timing and persistance.  I figured if anyone could guide me through this city, it would have to be the Mayor, yes?
Mayor Angel Taveras knows his city and immediately guided me to Federal Hill for one of the most intriguing meals I have had this year.  Pane E Vino was my destination and after a short cab ride I immediately figured out why he would suggest a place like this for a food blogger.  Pane E Vino offers the rustic appeal of old world Italy while exuding a modern sense of palate cravings.
My eyes and mouth decided on a dish filled with lobster, the Linguine all Fra' Diavolo.  Based with black linguine (*labeled black only because of its color but the taste is not different from regular linguine), which is made in house, the Fra' Diavolo played its role with a reccuring spiciness in every bite.  Taking a front seat in the restaurant near the breeze filled windows is truly the best way to take in all that Pane E Vino has to offer.  Spring afternoons never sounded so good mixed with a chilled glass of vino blanco.
Now I know most of you will probably only find yourself in Providence for the same reason I visited and I assure you, your time away from the District restaurant scene will not make you home sick once you get a taste of what Providence has to offer.
Category: Food.Fun.Stuff., restaurant reviews, Travels
Johnna French is a Harlem NY native with deep roots in Panama, Washington, DC and North Carolina. All four places have heavily influenced her life and the foods she loves today. After graduating Howard University School of Law and beginning her life as a young professional in the city she was led to start Johnna Knows Good Food in November 2007 to keep family, friends and colleagues updated on where to go and what to eat while dining in the nation's capitol. French, who still practices law, leads a team of three writers to cover the ever expanding Washington, DC food scene. French has been featured in print and television, appearing in Washingtonian Magazine and is a regular contributor to various local TV affiliates including WUSA 9, FOX 5 DC and WJLA (ABC Affiliate) News Channel 8. During the 2016-2017 football season, Johnna aired on Comcast Sports Mid-Atlantic (CSN) show, Redskins Life, as the weekly tailgate host. Johnna is currently a regular contributor to the FOX Baltimore Weekend morning show.
---