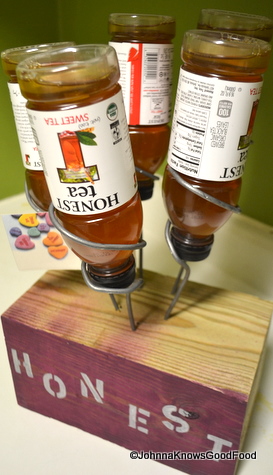 After living in North Carolina, it's kind of hard not to like sweet tea.  It is everywhere.  The thing about my lifestyle in D.C., however, is that sweet tea is almost non-existent.  Try visiting a restaurant and saying you want some sweet tea, the waiter will promptly bring over the tea and the mini packets of Equal.  The challenge is not only finding it in restaurants but finding it in the grocery stores and markets around the area.  Now I'm talking about GOOD sweet tea…not that stuff that tastes like over processed powdered sugar.  When Honest Tea decided to liven up my Valentine's Day with a bouquet of Sweet Tea, I was intrigued to see if it could muster the challenge of winning my sweet tea affection.
It did the trick.  The brewed tea flavor with a hint of sugar makes this tea a better candidate for my health concerns than other sweet teas I have had in the past.  Honest Tea's brand is all about that: healthy, organic teas with plenty of flavor.  The tea does lack in some of the major characteristics of authentic Southern sweet tea with the recipe needing a tad more lemon and maybe tagging on some minty flavor to give it a more fresh appeal.  The key to good sweet tea is not simply pouring in tons of sugar, it is an art, if I do say so myself, that includes a nice balance of tea, sugar, lemon and mint.
Honest Tea does an excellent job at keeping buyers in the healthy zone and I am certainly glad they decided to play with sweet tea.  Really it's not them who needs to change the recipe…I could simply fill my pitcher with their sweet tea, some ice cubes, a few slices of lemon and mint leaves and serve it up! Like the old saying says "fake it 'til you make it"…Sweet tea anyone??
Category: Announcements, Food.Fun.Stuff., non-alcoholic beverages, Product Review
Johnna French is a Harlem NY native with deep roots in Panama, Washington, DC and North Carolina. All four places have heavily influenced her life and the foods she loves today. After graduating Howard University School of Law and beginning her life as a young professional in the city she was led to start Johnna Knows Good Food in November 2007 to keep family, friends and colleagues updated on where to go and what to eat while dining in the nation's capitol. French, who still practices law, leads a team of three writers to cover the ever expanding Washington, DC food scene. French has been featured in print and television, appearing in Washingtonian Magazine and is a regular contributor to various local TV affiliates including WUSA 9, FOX 5 DC and WJLA (ABC Affiliate) News Channel 8. During the 2016-2017 football season, Johnna aired on Comcast Sports Mid-Atlantic (CSN) show, Redskins Life, as the weekly tailgate host. Johnna is currently a regular contributor to the FOX Baltimore Weekend morning show.
---