This weekend marks the last weekend to get in all your Christmas shopping and placing those online orders. I compiled a quick list of good gifts for "foodies" (*not my favorite word for those who are all about food but it serves the purpose here).  Merry Christmas!
1. Alchemy by Carla Hall: The famed chef of ABC's "The Chew" has created a line of sweet and savory miniature treats that would work perfect as table snacks while your guests wait for Christmas dinner.  I envisioned serving them alongside your typical cheese spread but honestly you could leave out the cheese spread since these treats are so full of flavor.  My fave flavors include the smoky blue cheese walnut on the savory side and the almond ginger cherry shortbread on the sweet side.
2. Moorenko's Ice Cream: I know it's the dead of winter and ice cream seems like the last thing to put on the dessert tray but Moorenko's should replace the typical eggnog.  I fell in love with this ice cream right about the time I fell in love with Alchemy.  I envision topping my Blueberry ice cream with crumbles of Alchemy's Black Forest Crinkle on the side.  Sounds like perfection when I imagine eating this beside a warm fireplace…
3. PAUL Bakery takes a spin on the Bûche de Noël.  The Bûche de Noël is the Christmas Yule Log, which is the non-traditional way of celebrating Christmas by burning a large wooden log in the hearth.  Most versions are made with a sponge cake that is filled with whipped cream, rolled into a cylinder, frosted with an icing, and dusted with powdered sugar (*to simulate snow).  PAUL has turned theirs into an all chocolate house and have various versions of the yule log (*Raspberry, Pear Caramel).
4. The Gingerbread Cake: The gingerbread cookie/cake has been apart of the Christmas tradition for ages.  Daisy Cakes has created a gingerbread cake of gingerbread layers, with thin layers of ganache and gingerbread cream cheese frosting topped off with gingerbread cookies.  Since they ship anywhere, overnight, any last minute dessert issues can be resolved via the Internet.
Cookbooks:  Cookbooks are an excellent stocking stuffer or make for great gifts for the home cook.  Here are a few that are making waves this holiday season.
5. The Bonne Femme Cookbook: Simple, Splendid Food that French Women Cook Every Day (*Recipes by Wini Moranville)-  The cookbook highlights are wine pairings, aperitif ideas, and hors d'oeuvre recipes for a French style celebration and a 30-minute New Years Day Brunch, french style.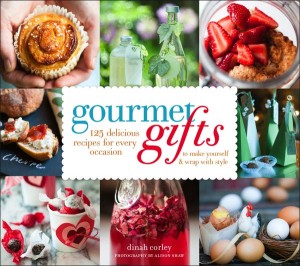 6. Gourmet Gifts: 100 Delicious Recipes for Every Occasion to Make Yourself and Wrap with Style:  Author Dinah Corley provides cocktail ideas for a New Years Eve Brunch and easy edible gifts for the holidays including Mulled Spiced Pears & Figs and Cardamom Coffee Can Cake.
7.  Since I have more than enough friends & family members with pets, its becoming important to consider treats for the pets when they join the party.  Lucy Postins healthy pet food cookbook, Made of Love, is perfect for the dog lover or the person who is constantly entertaining the dog lover and their dog.
8. After visiting the Sri Lankan embassy a couple of weeks ago, I am convinced I need to add this to my travel wish list.  Food that is incredibly spicy and will make you break out in a sweat, S.H. Fernando's cookbook, Rice & Curry, seems to tone down the spice factor for the novice to Sri Lankan cuisine.  After receiving high marks from the New York Times, I am extremely curious to try out the recipes in this cookbook especially these hoppers (*pictured above) that are common to Sri Lankan street fare.
Cocktails
9. There are a million ways to spruce up your alcoholic cocktails.  A bottle of dark rum can turn around anyone's feelings on eggnog but what about the person who does not take part in the libations?  It was refreshing to receive this bottle of Ferrarelle Platinum sparkling water just moments before the holiday season began because not everyone likes alcohol or can drink alcohol but they should not be deprived of a good cocktail.  Bubbly enough for a NYE toast, I would pair with fruity combinations of peach, orange and pear for the ideal non-alcoholic cocktail.
10. Ok, so this last suggestion isn't exactly "foodie"-specific, but it's a something to consider nonetheless. Consider calling on a flower delivery service to take a little of the stress off of your holiday shopping. A nice arrangement of flowers could make for an attractive centerpiece or serve as an impressive decoration piece at any Christmas dinner – and nothing makes a person feel special like having a beautiful gift delivered to their doorstep.  🙂
Post sponsored by http://www.serenataflowers.com
Category: Announcements, Food.Fun.Stuff., holiday cooking
Johnna French is a Harlem NY native with deep roots in Panama, Washington, DC and North Carolina. All four places have heavily influenced her life and the foods she loves today. After graduating Howard University School of Law and beginning her life as a young professional in the city she was led to start Johnna Knows Good Food in November 2007 to keep family, friends and colleagues updated on where to go and what to eat while dining in the nation's capitol. French, who still practices law, leads a team of three writers to cover the ever expanding Washington, DC food scene. French has been featured in print and television, appearing in Washingtonian Magazine and is a regular contributor to various local TV affiliates including WUSA 9, FOX 5 DC and WJLA (ABC Affiliate) News Channel 8. During the 2016-2017 football season, Johnna aired on Comcast Sports Mid-Atlantic (CSN) show, Redskins Life, as the weekly tailgate host. Johnna is currently a regular contributor to the FOX Baltimore Weekend morning show.
---