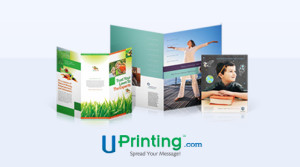 I thought brochures were a thing of the past until I picked one up at the nail salon the other day.  In the day and age of the internet ruling and brochure printing being a thing of the past, it was kind of refreshing to have something I could keep around the house informing me of the services that were offered at the salon.  This made me think of my tons of take out menus filling my self-proclaimed junk drawer and I thought "these aren't a thing of the past, they're actually pretty useful" especially where I solely order from these menus when doing take-out night.  All this to say, this is the reason that I agreed to do a giveaway for one lucky winner to get their very own stash.  Whatever it is you want people to know more about, enter the giveaway and you get your very own set for FREE.
Here's what you do: Simply follow me on Twitter @jknowsgoodfood and you are instantly entered to win. The online printing contest runs from September 19, 2011-September 23, 2011. Good luck!
*Prize Details: 50 pcs. brochure printing for one winner; 8.5″ x 11″; 100 lb Paper Gloss with Folding (Half Fold, Trifold/Letterfold, Z-Fold, Roll Fold, Accordion Fold); Outside and Inside Printing; 2 Business Days Turnaround; Free shipping; Restriction: Limited to US residents 18 years old and above only
*This giveaway is sponsored by UPrinting.com, an online printing company. No monetary compensation was given. See more information about brochure printing and other brochure information on UPrinting.com
Category: Announcements, Food.Fun.Stuff.
Johnna French is a Harlem NY native with deep roots in Panama, Washington, DC and North Carolina. All four places have heavily influenced her life and the foods she loves today. After graduating Howard University School of Law and beginning her life as a young professional in the city she was led to start Johnna Knows Good Food in November 2007 to keep family, friends and colleagues updated on where to go and what to eat while dining in the nation's capitol. French, who still practices law, leads a team of three writers to cover the ever expanding Washington, DC food scene. French has been featured in print and television, appearing in Washingtonian Magazine and is a regular contributor to various local TV affiliates including WUSA 9, FOX 5 DC and WJLA (ABC Affiliate) News Channel 8. During the 2016-2017 football season, Johnna aired on Comcast Sports Mid-Atlantic (CSN) show, Redskins Life, as the weekly tailgate host. Johnna is currently a regular contributor to the FOX Baltimore Weekend morning show.
---