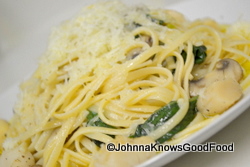 *Article Contributed by Tim Eyre
Are you what you eat? I never used to think so. I liked to think that I was unique, with an individual blend of moods and character traits that were completely unrelated to my environment, my diet, or my genetic background. I was inventing myself as I went along, and doing a mighty fine job too.
And then after watching some incredible athletes in a recent TV program, I realized perhaps I didn't know absolutely everything about proper health, and maybe, just maybe I had something I could learn. Work had been more than stressful lately and I was receiving a bit of backlash from those close to me that I had become 'irritable.'
Just a small amount of preliminary research about my diet showed me that a few small changes might enable me to not only be more athletic, but perhaps maybe even happier.
These days, I eat green vegetables at almost every meal. I have even experimented with juicing greens. Most often, I eat a big salad. In a bind, I have been known to have a plate of steamed broccoli for lunch (I pour a ginger sauce over it).
Why are green vegetables so important? It turns out that it's all about the chlorophyll, the substance that is so crucial for plants when they transform light into chemical energy during photosynthesis. (For more details on how that occurs, try this link: "Chemical of the Week: Chlorophyll," http://scifun.chem.wisc.edu/chemweek/chlrphyl/chlrphyl.html.) The central ion in chlorophyll is magnesium — a mineral that happens to be critical for relaxation, and also an element that many Americans seem to lack in their diets.
You can also get magnesium from whole grains. But green leafy vegetables offer a host of other benefits, such as vitamin C, B vitamins, calcium, and potassium. B vitamins and potassium in particular tend to get depleted when the body is under a tremendous amount of chronic stress, as it may be if you have lots of chronic deadlines, are worrying about money problems, or have a family that keeps you going all hours of the day.
It turns out that magnesium is also high in some of my favorite foods: beans, and chocolate. I feel that I have permission now to indulge in black bean soup, red beans and rice, or refried pinto beans any time I'd like! And if I have dessert after a meal, I try to make it a few squares of very dark (70 percent cacao or higher) chocolate.
I couldn't deny but also couldn't fully understand why my new diet was putting me on such an even keel, so I began to investigate. It turns out that magnesium relaxes your muscles — a common place for people to hold stress-related tension. It also improves the quality of nightly sleep, reduces anxiety, reduces menstrual cramps (I don't get those!), reduces high blood pressure, makes asthma attacks less frequent in asthma sufferers, and regularizes heartbeats in people who have irregular heartbeats. When you don't have enough magnesium in your diet — and many of us don't — you start to feel tired and irritable all the time — just the way I used to. A magnesium deficiency can also cause leg or foot cramps, over-sensitivity to loud noises, muscle spasms, insomnia, and restless legs. All those symptoms could make a person cranky as well. If you want to avoid the negative effects of having a magnesium deficiency, taking an online magnesium deficiency test could be very helpful. It will tell you your risk of deficiency and give you several suggestions that are tailored to your specific health journey.
I can't believe that my irritability could be connected, not to worries that I had on my mind, but instead to something as prosaic as what I happened to eat for breakfast and lunch. But I can't argue with the results of my diet. I do feel better, calmer and more balanced, and it seems as though I get more done. Moreover, I also have stopped craving caffeine as much as I used to. I can manage with cups of black tea instead of coffee. It's harder to get enough magnesium when I travel, but sometimes I take a powdered magnesium supplement with me, called "Natural Calm." I find that if I take "Natural Calm" at the beginning of a long plane trip, I sleep like a baby for the rest of the flight — and I feel refreshed and ready to work when I get off the plane.
So bring on the stress — I think I can handle it now!
*Working with self storage users all over the United States, Tim Eyre helps customers store their stuff in places like self storage in Boston and Gardena self storage. In his spare time, Tim likes to get outside for a game of basketball or a round of golf.
Category: Food.Fun.Stuff.
Johnna French is a Harlem NY native with deep roots in Panama, Washington, DC and North Carolina. All four places have heavily influenced her life and the foods she loves today. After graduating Howard University School of Law and beginning her life as a young professional in the city she was led to start Johnna Knows Good Food in November 2007 to keep family, friends and colleagues updated on where to go and what to eat while dining in the nation's capitol. French, who still practices law, leads a team of three writers to cover the ever expanding Washington, DC food scene. French has been featured in print and television, appearing in Washingtonian Magazine and is a regular contributor to various local TV affiliates including WUSA 9, FOX 5 DC and WJLA (ABC Affiliate) News Channel 8. During the 2016-2017 football season, Johnna aired on Comcast Sports Mid-Atlantic (CSN) show, Redskins Life, as the weekly tailgate host. Johnna is currently a regular contributor to the FOX Baltimore Weekend morning show.
---