It can be a challenge to get off the radar in the Washington, D.C. area.  The quick getaways turn into running into a colleague or two on vacation with their families or running into any random person from your past spent in this area.  For an area that spreads across two states and a District, it can still become a little claustrophobic.  An escape to Wisconsin is just what I needed to remember there is a world outside of the East Coast.  My last visit to Wisconsin left me feeling like I needed to explore this region again, which is why a recent trip to Door County was a welcome change.
As we prep for Baby French, family friendly destinations have become the center of future travel plans.  Door County is a family vacation dream especially if you are looking to get off the radar in this area.  I will add the disclaimer that it is a family vacation dream if you are into the outdoors.  If you like to hike, kayak and/or boat on vacation, this is the place for you.  The food is also family friendly with an ice cream parlor and landmark diner taking the center stage for dining destinations.
Here are five things you and the kids will love in Door County: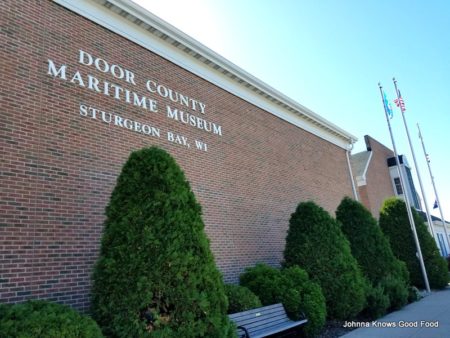 The Door County Maritime Museum: Before you get out and ride the waves, this should be your first stop to get a brief history lesson on Sturgeon Bay shipbuilding.  Make sure you take a tour of Door County's Chicago Fireboat.  I was lucky enough to get a tour with Bob Purves, who is the son of John Purves, whom this local legendary boat is named after.
Hands on Art Studio in Fish Creek: This was perhaps my favorite part of the trip.  Zen space!  It is the do-it-yourself walk-in art experience where you can make everything from your own Mosaic piece to choosing a base project to paint.  I sat for hours designing my next wind chime for my home and could have stayed all day had time allowed for it.  The kids will love it and you will too as you sit side-by-side creating your next home accessory.
Northern Sky Theatre: I will emphasize again, this is an outdoors vacation.  The Northern Sky Theatre is a testament to this notion with its live theatre productions occurring outdoors in the wooded theatre.  I loved this concept.  With nothing like this in the D.C. area, it was a welcome change (*sans the mosquitos, which OFF made completely bearable) to view a play under the stars deep in the woods.
Antique/Vintage Shopping: This may be the part of the trip where you peel off an hour or two to yourself from the fam and do some perusing on your own.  It is well worth it.  Door County has numerous shops to find hidden treasures including household goods and clothing.  I found some goodies that I was even able to bring back on the plane.  Vintique and Door County Trader Antiques Consignment Mall should definitely top your list.
Seaquist Orchards: Another shopping destination but solely dedicated to food.  I liked this place for its easy going porch that invites those who are not shopping inside to sit and enjoy the Wisconsin sunshine while waiting on the rest of their party.  For those that do love to food shop Seaquist is the place to do it.  Where Door County should be nicknamed "Home of the Cherry Pie", Seaquist has tons of products that highlight the hometown favorite.  With everything you will ever need to recreate the fresh cherry pies of Door County, this should be a stop on your tour in this area.
Category: Reviews, Travels, World Tour
Johnna French is a Harlem NY native with deep roots in Panama, Washington, DC and North Carolina. All four places have heavily influenced her life and the foods she loves today. After graduating Howard University School of Law and beginning her life as a young professional in the city she was led to start Johnna Knows Good Food in November 2007 to keep family, friends and colleagues updated on where to go and what to eat while dining in the nation's capitol. French, who still practices law, leads a team of three writers to cover the ever expanding Washington, DC food scene. French has been featured in print and television, appearing in Washingtonian Magazine and is a regular contributor to various local TV affiliates including WUSA 9, FOX 5 DC and WJLA (ABC Affiliate) News Channel 8. During the 2016-2017 football season, Johnna aired on Comcast Sports Mid-Atlantic (CSN) show, Redskins Life, as the weekly tailgate host. Johnna is currently a regular contributor to the FOX Baltimore Weekend morning show.
---