Wine tasting is always fun but it is something about Boxwood Winery that boosts the experience.  This was my second visit to the winery and again I was reminded of why I fell in love with it in the first place.  The modernized, contemporary tasting room and facilities make you feel like you are at the space where the rustic tasting room meets sleek white décor on the dance floor.  The usual suspects of a vineyard are found on the property i.e. tin wine casks and wooden barrels housing the wine.
The unusual suspects are the long dining room tables that offer guests the opportunity to do private tastings paired with charcuterie and cheese.  Now this is the way to celebrate a girlfriend's birthday.  The main tasting room offers a couple of tables for sipping and enjoying the wine but on a beautiful day you want to be outside at one of the many table rounds.  The wine is naturally the star of the show.  The 2013 Trellis is my wine of the moment (light and airy mix of Merlot, Cabernet Sauvignon, Cabernet Franc and Petit Verdot).  Medium in acidity and medium bodied, the 2013 Trellis is best paired with a roasted white meat such as turkey or quail so the acid can help cut through the fat.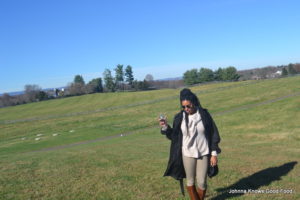 Boxwood only makes red varietals.  Red wine lovers should make this a part of their wine tour through Virginia wine country.  The thing we like most about the vineyard is it is family run by people that are actually from Virginia.  Rachel Martin, co-owner of the winery alongside her family, is from Charlottesville, VA.  They have decided to build a culture in Middleburg, VA and it is catching on fast.  With Salamander down the block and some of the best red wine in this region, Middleburg is going to see a lot of me in the near future.
*Special Thanks to Guest of a Guest DC for good company, laughter and vino!
Category: Announcements, Travels, VA
Johnna French is a Harlem NY native with deep roots in Panama, Washington, DC and North Carolina. All four places have heavily influenced her life and the foods she loves today. After graduating Howard University School of Law and beginning her life as a young professional in the city she was led to start Johnna Knows Good Food in November 2007 to keep family, friends and colleagues updated on where to go and what to eat while dining in the nation's capitol. French, who still practices law, leads a team of three writers to cover the ever expanding Washington, DC food scene. French has been featured in print and television, appearing in Washingtonian Magazine and is a regular contributor to various local TV affiliates including WUSA 9, FOX 5 DC and WJLA (ABC Affiliate) News Channel 8. During the 2016-2017 football season, Johnna aired on Comcast Sports Mid-Atlantic (CSN) show, Redskins Life, as the weekly tailgate host. Johnna is currently a regular contributor to the FOX Baltimore Weekend morning show.
---