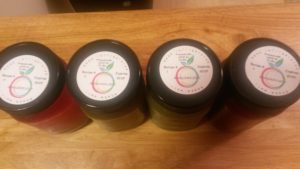 I had the pleasure of sampling some FANTASTIC natural juices made by Alive Juices.  Interestingly, just the week before I tasted them for this review, my yoga studio had some available for us yogis to try.  So, I was super excited to try four different ones.
I was given 4 varieties: #1 (Positive Karma), #4 (Detox Mantra), #5 (Guru's Green) and #7 (Eternal Shakti).  (#7 was labeled as #8, but it was clearly not the bright yellow Morning Sunshine)
They come packaged in adorable and sturdy mason jars in a sectioned reusable bag. So, they are easy to carry and store in the refrigerator.  The juices also came with some dried fruit and Ayurvedic Herbs (a traditional dietary supplement), which you can add to the juices – I did not.  You can store them for 3-4 days.
My review is pretty straightforward – all of the juices were awesome! I drank one for breakfast four days in a row, accompanied by either a banana or whole wheat croissant.  All of the juices were smooth, light and did not have tons of pulp.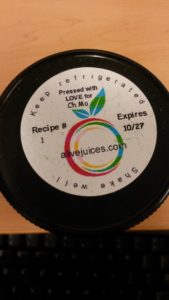 #1 (Positive Karma) – According to Alive, this flavor promotes cardiovascular and bone health.  It includes the "Big 4" (apples, ginger, garlic and lemon), which are in each juice, and cucumber, celery, spinach and cilantro.  I'm a lover of every single ingredient.  The cilantro really shined through, but did not take over like is usually does, and it balanced well especially with the garlic and lemon.  The apples gave it some sweetness.
#4 (Detox Mantra) – This juice contains the Big 4, carrots, beet, kale and cilantro. and helps to control cholesterol and promote detoxification. I was apprehensive because I do not like beets, but with all of the other ingredients, I really did not taste them.  They sort of gave the juice an "earthy" taste, along with the kale, but that's about it.  Again, my beloved cilantro made an appearance, and the carrots and apple gave this mixture a nice sweetness.
#4 (Guru's Green) – This is the only juice I was not a big fan of, but it did not lack in quality.  It contains the Big 4, lettuce, bok choy, collards and one of my least favorite spices – fennel.  There was no masking it for me! So while the juice itself was solid, it was tough for me to get through this one due to the fennel. However, it promotes immunity and colon health.  So, you may want to give it a try!
#7 (Eternal Shakti) – This was probably my favorite juice! In addition to the Big 4, it contains red cabbage, parsley and watermelon.  The watermelon gives this juice such a great flavor, and it tasted like summer time.  And since it helps to delay aging, promotes healthy teeth, gums and skin, you can't go wrong with this one!
While I was not dieting while I tried the juices, each one is only about 200 calories.  They could definitely help with anyone looking to get his or her health on track.  I highly recommend Alive Juices and hope you try them!
Category: MD, non-alcoholic beverages, Product Review, Reviews
---