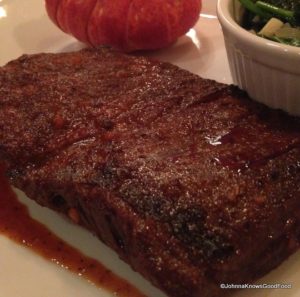 Are you hoping to tempt palates and have your guests begging for seconds during this holiday season? If so, then you are likely searching for a unique recipe that is easy to cook and will still leave a lasting impression. While this can appear to be a bit challenging, nothing could be further from the truth. Let's take a look at a tried-and-tested meal that is guaranteed to please even the most discriminating of tastes.
This recipe combines sweetness while giving a certain "bite" which I am certain will leave your guests asking for seconds! Whether served in a formal dining hall or enjoyed from the comfort of your simple coffee tables in the living room, this meal is bound to make a lasting impression. A word of caution, take care not to spill the gravy all over the table. The rich sauce might make your task to get your living room furniture clean and presentable a bit more difficult than usual.
Ginger-Baked Beef and Majestic Mashed Potatoes
First, you will need to procure some basic ingredients that can all be easily found at your local grocery store. These include:
Two pounds of flank steak (or the amount needed to feed your guests)
Two pounds of flank steak (or the amount needed to feed your guests)

One large root of fresh ginger.

Honey

Four large Russet potatoes.

Salt.

Butter.

Ground paprika.
It is important to note that the potatoes themselves should be manually (or mechanically) mashed beforehand; otherwise they may take too long to prepare while your steak is cooking. Now that we have the basic ingredients, let's begin.
Preparing the Beef
One of the best aspects of flank steak is that it can will cook rather quickly. Be certain to tenderize it first and set it in the refrigerator until it is ready to be fried. Dice the ginger up into extremely small pieces and set it aside. Rub a bit of salt into both sides of the flank steak. Coat a pan with virgin olive oil. Allow the pan to heat. While this is happening, spread the ginger evenly over either side of the steak. Place the fillets into the pan and allow each side to slightly sear. Then, lower the heat and baste each side with honey. The key trick is to cover the pan after the honey is added. This will allow its essence to become embedded within the beef. Leave this mixture to simmer until the potatoes are done.
Majestic Mashed Potatoes
Add a couple of spoonfuls of butter to the mashed potato mixture along with a sizable portion of paprika. Sprinkle the salt in a bit at a time. One of the secrets to this recipe is that you do not wish to have too much salt. So, keep placing it inside until it has reached the desired taste; stirring as it is added. Place this mixture over the stove and allow it to heat until it is substantially steaming (usually approximately fifteen minutes on a medium setting. The potatoes should now have a characteristically red hue and they will exhibit a "sweet-and-sour" combination. Finally, turn off the heat for both the steak and the potatoes. Serve the ginger and honey steak first. The potatoes can either be placed atop or off to the side.
Johnna French is a Harlem NY native with deep roots in Panama, Washington, DC and North Carolina. All four places have heavily influenced her life and the foods she loves today. After graduating Howard University School of Law and beginning her life as a young professional in the city she was led to start Johnna Knows Good Food in November 2007 to keep family, friends and colleagues updated on where to go and what to eat while dining in the nation's capitol. French, who still practices law, leads a team of three writers to cover the ever expanding Washington, DC food scene. French has been featured in print and television, appearing in Washingtonian Magazine and is a regular contributor to various local TV affiliates including WUSA 9, FOX 5 DC and WJLA (ABC Affiliate) News Channel 8. During the 2016-2017 football season, Johnna aired on Comcast Sports Mid-Atlantic (CSN) show, Redskins Life, as the weekly tailgate host. Johnna is currently a regular contributor to the FOX Baltimore Weekend morning show.
---