What better place to showcase a new menu than at the Taste of DC held over Columbus Day weekend? British Airways did just that as the arrival of their A380 arrived into Dulles earlier this month serving as the first direct connection between the nation's capitol and London Heathrow. That's wonderful news to frequent fliers who cross the friendly skies, but what about those of us who consider themselves foodies? It is just as exciting as British Airways disperses every negative thought about British cuisine within less than eight hours. Award-winning Executive Chef Simon Hulstone's take on the way ingredients change in taste (Height Cuisine) while flying above 30,000 feet in the air is inspiring to say the least. Flavorful, filling, and finessed correctly the food almost overpowered my thoughts about Buckingham Palace, The London Eye, and Old Spitalfields Market….almost. It's umami at its finest.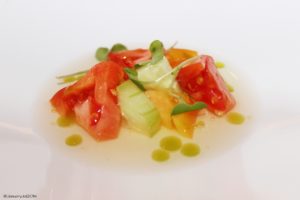 Chilled Heritage Tomato Consommé with Basil Oil
(Light yet seasonal, this dish cleansed the palette with crisp cucumbers, juicy tomatoes, and a hint of basil.)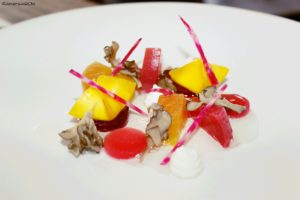 Elderflower, Golden Beetroot with Pickled Shimeji Mushrooms and Goat Cheese
(Tucked within the golden beetroot was an additional texture of creaminess, which paired extremely well with the acidity from the mushrooms.)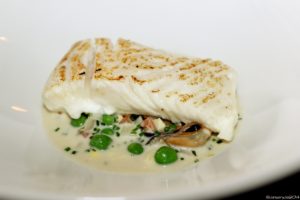 Roasted Halibut filet served with warm tartar sauce
(Warm tartar sauce doesn't tickle your fancy? With capers, fresh spring peas, mussel broth, and mussels…this isn't your normal tartar sauce. And did we mention the fish was cooked to perfection?)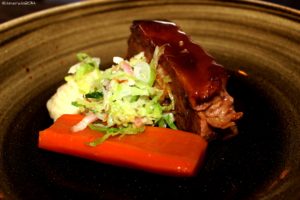 Seaweed Braised Beef with Parmesan/Horseradish Pomme Puree
(Need an excuse to eat roast beside on Sunday? A bite of each component on your fork allowed all the flavors to meld in a savory fashion.)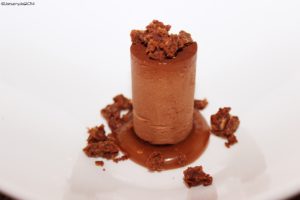 Salted Caramel Chocolate Fondant
(Textural overload here, but in a welcomed manner. Shaved chocolate bits, airy fondant, and silky salted caramel proved to be a dynamic combination.)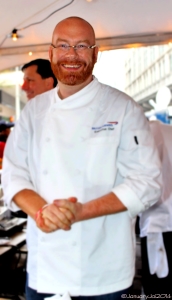 Chef Simon Hulstone
Interested in learning more? You should. Head over to A380 is a Double Decker in the Sky and here Height Cuisine for a sample menu. Yet, booking a trip would be even better.  www.britishairways.com
Category: Reviews, Washington D.C.
An ambitious freelance photographer who just happens to be a football fanatic, an avid baker, concert junkie, and wanderlust. "I can't stand people who do not take food seriously." ~Oscar Wilde
---