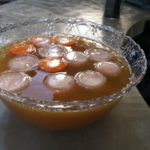 Adams Morgan offers patrons a new option for rooftop dining. One of the area's newest offerings, Roofer's Union is a great happy hour spot. It has three levels and various choices in ambiance. The second floor are for those looking to set down for nice casual dinner. It features floor to ceiling windows which provide nice sunlight while dining. If you are looking for to take in a little of nature, you can go to the rooftop, which has a stunning view of our great city. This is also a great place for groups. In addition to a full bar menu, they also offer a punch bowl of their speciality cocktail for groups to share. It is a wonderful option for a quick bite and drinks with friends.
Roofer's Union
2446 18th St, NW
Washington, DC 20009
Category: Washington D.C.
---