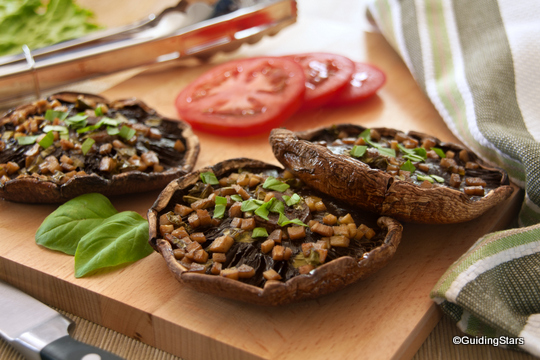 *Recipe courtesy Guiltless Grilling Recipes- provided by Guiding Stars (www.guidingstars.com)
You can use a grill or a broiler for these mushrooms.  Marinate them first for an hour in this simple sweet-tangy marinade with a zing of fresh ginger.  So easy, so yummy.
Servings: 4 (135 G )
Prep Time: (Marinate Time: 1 Hour)
Cook Time: 10 Minutes
Ingredients
4 large portobello mushrooms
1/4 cup balsamic vinegar
1/2 cup pineapple juice
2 tablespoons chopped fresh ginger, peeled
1 tablespoon chopped fresh basil
Directions
.      Clean mushrooms with a damp cloth and remove their stems. Place in a glass dish, stemless (gill) side up.
.      To prepare the marinade, in a small bowl whisk together the vinegar, pineapple juice and ginger. Drizzle the marinade over the mushrooms. Cover and let marinate in the refrigerator for about 1 hour, turning mushrooms once.
.      Prepare a hot fire in a charcoal grill or heat a gas grill or broiler. Away from the heat source, lightly coat the grill rack or broiler pan with cooking spray. Position the cooking rack 4 to 6 inches from the heat source.
Grill or broil the mushrooms on medium heat, turning often, until tender, about 5 minutes on each side. Baste with marinade to keep from drying out. Using tongs, transfer the mushrooms to a serving platter. Garnish with basil and serve immediately.
*Serve on a whole-grain bun like a burger or with brown rice and greens for a complete meal.
*Johnna's tip:  Grill season is almost over or at least the summer months that accompany grilling season are almost over.  With Labor Day around the corner, consider adding this to your menu.  Grilled mushrooms are everything!!
Category: Recipes, vegetarian
Johnna French is a Harlem NY native with deep roots in Panama, Washington, DC and North Carolina. All four places have heavily influenced her life and the foods she loves today. After graduating Howard University School of Law and beginning her life as a young professional in the city she was led to start Johnna Knows Good Food in November 2007 to keep family, friends and colleagues updated on where to go and what to eat while dining in the nation's capitol. French, who still practices law, leads a team of three writers to cover the ever expanding Washington, DC food scene. French has been featured in print and television, appearing in Washingtonian Magazine and is a regular contributor to various local TV affiliates including WUSA 9, FOX 5 DC and WJLA (ABC Affiliate) News Channel 8. During the 2016-2017 football season, Johnna aired on Comcast Sports Mid-Atlantic (CSN) show, Redskins Life, as the weekly tailgate host. Johnna is currently a regular contributor to the FOX Baltimore Weekend morning show.
---