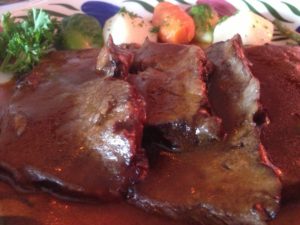 Visiting L'Auberge Chez Francois had been on my list for quite some time.  It is arguably the number one French restaurant in the Washington, DC area.  The customer service is one reason driving down the hilly, winding two lane roads was worth it.  Your treated like royalty from the moment you walk in and the charm of the place takes you to time spent in your warmest, coziest dining experience.  A veteran in the DC area, L'Auberge has been acclaimed for years for its exquisite French menu and I can now see why the menu has received this praise.
The menu varies so I will not bore you with the details of my meal which may or may not be there on your visit.  I will tell you that they do have a rich appreciation for wine and know how marry it into their dishes for simple but robust flavor combinations.  The things they do with beef make me want to run to Great Falls at least once a month for a meal.  Unfortunately, the only folks who have the convenient luxury of L'Auberge are those who live in this neck of the woods.  The rest of us have a hike from the District but at the very least, it offers a scenic view of Great Falls.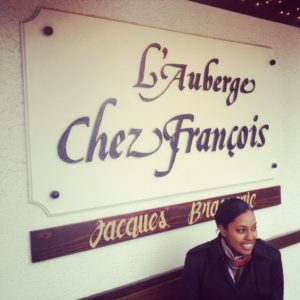 L'Auberge Chez Francois is one of those places that will never leave the DC area and will remain a staple in the restaurant scene.  Much respect is due to a place that has garnered diners from all around the area and beyond to a small cottage in Falls Church for over 30 years.  If your still wondering if the food is truly good, the latter deets should reassure you.
Category: Food.Fun.Stuff., restaurant reviews, VA, Washington D.C.
Johnna French is a Harlem NY native with deep roots in Panama, Washington, DC and North Carolina. All four places have heavily influenced her life and the foods she loves today. After graduating Howard University School of Law and beginning her life as a young professional in the city she was led to start Johnna Knows Good Food in November 2007 to keep family, friends and colleagues updated on where to go and what to eat while dining in the nation's capitol. French, who still practices law, leads a team of three writers to cover the ever expanding Washington, DC food scene. French has been featured in print and television, appearing in Washingtonian Magazine and is a regular contributor to various local TV affiliates including WUSA 9, FOX 5 DC and WJLA (ABC Affiliate) News Channel 8. During the 2016-2017 football season, Johnna aired on Comcast Sports Mid-Atlantic (CSN) show, Redskins Life, as the weekly tailgate host. Johnna is currently a regular contributor to the FOX Baltimore Weekend morning show.
---