After this year's inauguration, Chef/Owner Art Smith opted to close down the restaurant for a month-long renovation. This past March, Art & Soul on Capital Hill threw a wonderful fair of a shindig to show off all of their recent changes for the menu and the restaurant's aesthetic features. Among the new ambiance/decor and the tasty Southern bites were a few of Art & Souls partners like Geechie Boy Market & Mill who provides their grits, Butcher & Baker who created their uniforms, and Smooth Ambler who provides some of their small-batch spirits.
(Courtesy of Art & Soul, 2013)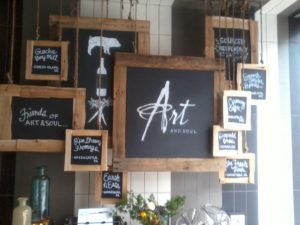 The restaurant itself received an uplift of herringbone wood floors, textured walls, and diverse artwork while the cuisine received bigger sharable menus, and more Southern items with a modern twist. Naturally, the traditional shrimp & grits and fried chicken remain but there are so many other new delectable items like fried green tomatoes, Cajun boudin bites, deviled eggs, and bacon cornbread. Art & Soul's modernized Southern smorgasbord has returned at it's finest, tastier and better-looking all around. Reserve a table on the weekend to be a part of the close-knit family style Saturday dinners that include live music, drink pairings, appetizers, and a full dinner. Also be sure to check out their weekly patio Pig & Oyster Roasts that starts two weeks from now on May 29th. That alone should be a HOOT. Happy eating 🙂
(Courtesy of Art & Soul, 2013)
Category: Food.Fun.Stuff., Publicity, Washington D.C.
Johnna French is a Harlem NY native with deep roots in Panama, Washington, DC and North Carolina. All four places have heavily influenced her life and the foods she loves today. After graduating Howard University School of Law and beginning her life as a young professional in the city she was led to start Johnna Knows Good Food in November 2007 to keep family, friends and colleagues updated on where to go and what to eat while dining in the nation's capitol. French, who still practices law, leads a team of three writers to cover the ever expanding Washington, DC food scene. French has been featured in print and television, appearing in Washingtonian Magazine and is a regular contributor to various local TV affiliates including WUSA 9, FOX 5 DC and WJLA (ABC Affiliate) News Channel 8. During the 2016-2017 football season, Johnna aired on Comcast Sports Mid-Atlantic (CSN) show, Redskins Life, as the weekly tailgate host. Johnna is currently a regular contributor to the FOX Baltimore Weekend morning show.
---