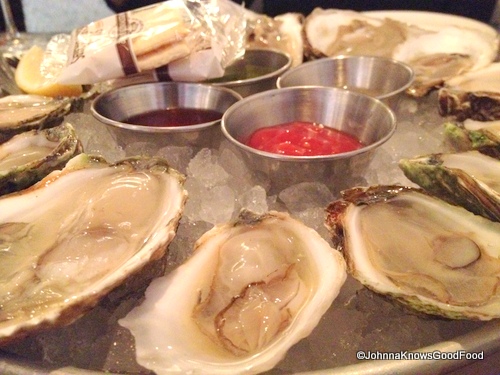 There are a million and one reasons why anyone who dines out in the District should definitely Dine Out for Life today.  If I had enough blog space I would tell you why but here are 10 good reasons that we snagged from the Food & Friends Blog.  Enjoy and do not eat alone tonight, dining out is so much more fun with good company…Cheers!
10. YOU WERE HUNGRY ANYWAY
Chances are, you were probably planning to eat that day anyways, right? You might as well grab some grub at one of the more than 100 restaurants participating this year.9. YOU WANT TO IMPRESS YOUR DATE
Sure, it's sweet that you bought flowers and opened the car door for your date, but this is your chance to really shine; suggest an establishment that is giving a portion of proceeds to a good cause.8. YOU ALREADY HAVE DINNER PLANS, BUT LUNCH IS OPEN
There is an abundance of restaurants participating not just for dinner but lunch as a way to raise money.7. YOU WANTED TO TRY THAT NEW PLACE
More than 100 restaurants in the Washington, DC Metro Region are taking part in this year's Dining Out for Life®. There is something for everyone!
6. YOU CAN MAKE IT A TRADITION
If you haven't already, make the Dining Out for Life® experience a yearly tradition. When it's over, you'll be counting down the days until next year's event!
5. YOU WERE PLANNING AN OUTING 
Whether it's a business luncheon or a colleague's going away party, your office is always finding a reason to get out to the local watering hole. For just one day out of the year, that office excursion can raise money to support your neighbors in need.
4. YOU WANT TO BE PART OF A NATIONWIDE FIGHT
You may have your own table, but you're eating dinner with thousands of people – across the country — that night who, just like you, want to join together in the fight against HIV/AIDS and other life-challenging illnesses.
3. YOUR SUPPORT STAYS IN YOUR CITY
There's nothing like seeing your contribution have an influence right in front of your eyes. When you Dine Out For Life you're raising money for Food & Friends, a nonprofit in your city, for your city.
2. MAKE A DIFFERENCE
Though it's so easy to Dine Out, it will mean a world of difference to someone in your community. Your help will make a direct and immediate impact in the lives of thousands of our neighbors battling illnesses.
1. THERE'S NO EASIER WAY TO GIVE
Your meal will cost just as much as it would any other day of the year, only this time a portion of what you're spending goes to Food & Friends' mission of providing home-delivered nutritious meals to our neighbors facing illnesses. All you need to do is eat at a participating restaurant.
Category: Announcements, Food.Fun.Stuff., Washington D.C.
Johnna French is a Harlem NY native with deep roots in Panama, Washington, DC and North Carolina. All four places have heavily influenced her life and the foods she loves today. After graduating Howard University School of Law and beginning her life as a young professional in the city she was led to start Johnna Knows Good Food in November 2007 to keep family, friends and colleagues updated on where to go and what to eat while dining in the nation's capitol. French, who still practices law, leads a team of three writers to cover the ever expanding Washington, DC food scene. French has been featured in print and television, appearing in Washingtonian Magazine and is a regular contributor to various local TV affiliates including WUSA 9, FOX 5 DC and WJLA (ABC Affiliate) News Channel 8. During the 2016-2017 football season, Johnna aired on Comcast Sports Mid-Atlantic (CSN) show, Redskins Life, as the weekly tailgate host. Johnna is currently a regular contributor to the FOX Baltimore Weekend morning show.
---