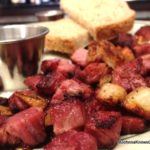 A Town Bar and Grill is adding a special menu onto their weekly Sunday brunch in honor of St. Paddy's Day.  The St. Patrick's Day Brunch Bash, Sunday, March 17, will include a special 7-for-$7 St. Paddy's Day menu as outlined below, a"leprechaun" dunk tank, and party favors.
Black-and-Tan Pork With Spicy Ale Slaw – Spiced pork, marinated in black and tan beer,
served with spice ale-slaw.
 Stuffed Cabbage Rolls – Corned beef with sauerkraut, wrapped up in cabbage.
Classic Irish Stew – Beef, Potatoes, Carrots, Celery, simmering in Guinness.
Guinness Float – The Ultimate Irish Milkshake
Classic Corn Beef Bomber – Corned Beef, Sauerkraut,
 Ruben Fritters – Fried Ruben bites
Corn beef Empanadas – Our empanadas, all corn beef, all day!
*A Town Bar and Grill is located @ 4100 Fairfax Drive, Arlington, VA
Category: Announcements
Johnna French is a Harlem NY native with deep roots in Panama, Washington, DC and North Carolina. All four places have heavily influenced her life and the foods she loves today. After graduating Howard University School of Law and beginning her life as a young professional in the city she was led to start Johnna Knows Good Food in November 2007 to keep family, friends and colleagues updated on where to go and what to eat while dining in the nation's capitol. French, who still practices law, leads a team of three writers to cover the ever expanding Washington, DC food scene. French has been featured in print and television, appearing in Washingtonian Magazine and is a regular contributor to various local TV affiliates including WUSA 9, FOX 5 DC and WJLA (ABC Affiliate) News Channel 8. During the 2016-2017 football season, Johnna aired on Comcast Sports Mid-Atlantic (CSN) show, Redskins Life, as the weekly tailgate host. Johnna is currently a regular contributor to the FOX Baltimore Weekend morning show.
---