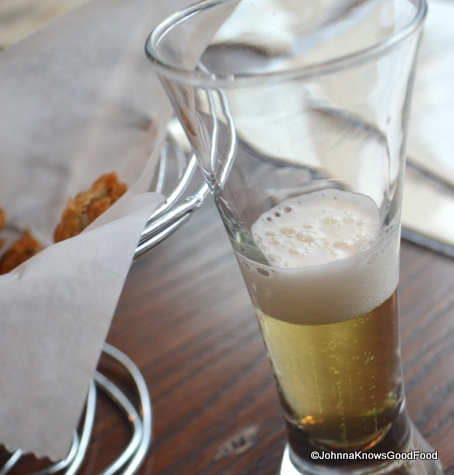 After living in the District for over 10 years, I have watched the food scene blossom into all the food I ever wanted, which is why I almost never need to leave the city limits to fill a void.  There has been a void, however, that needed some serious filling and is the reason why I was more than happy to take on a lunch date in Falls Church.  Fried pickles.  There are few things I will cross the bridge for and fried pickles makes the cut.  The thing about fried pickles is they have to be prepared perfectly, meaning the chef cannot simply think he's dealing with some sliced cuts of sour bites tossed in a some corn meal or flour.  He has to pay attention to the details.
Mad Fox Brewing Company has the best fried pickles I have tasted in the D.C. area thus far.  The attention is there where they are brined in three huge tins in a rotational system that happens daily so they are never without seasoned pickles.  The pickles are then tossed with a coating of house-made seasonings and fried to a crispy golden brown color.  Served alongside a spicy chipotle sauce, the fried pickles are truly a reason to head down 495.  Though I am not an astute beer drinker, I'm sure true beer drinkers would appreciate the fact that the restaurant brews all of their beers in-house in a 15-barrel brewing system.  Funny how, I, as a non-beer drinker, guzzled some down with the fried pickles and had no complaints.  They were quite a match.
The menu is the typical All American selections but with fun names and twists.  Funny how a name made me order the pizza pictured above: Garlic Pig.  I had to have it.  It was truly laced with a few of my guilty pleasures: pork (pepperoni), cheese (fresh mozzarella) and lots of garlic.  Next time, I promised myself I will go for The Mob pizza. Yes, the Mob Pizza.
Mad Fox surpassed my expectations mostly because of it stuck to the basics without boredom.  In other words, they kept the typical bar food menu but with a splash of creativity.  Take for instance the cheesecake which is served more like a wrap than a slice.  Wrapped in a tortilla shell coated in their house-made batter, the cheesecake is then deep fried with bananas and hazelnut spread (*Nutella) and served with ice cream.  Needless to say, I will return to Mad Fox.
Category: restaurant reviews
Johnna French is a Harlem NY native with deep roots in Panama, Washington, DC and North Carolina. All four places have heavily influenced her life and the foods she loves today. After graduating Howard University School of Law and beginning her life as a young professional in the city she was led to start Johnna Knows Good Food in November 2007 to keep family, friends and colleagues updated on where to go and what to eat while dining in the nation's capitol. French, who still practices law, leads a team of three writers to cover the ever expanding Washington, DC food scene. French has been featured in print and television, appearing in Washingtonian Magazine and is a regular contributor to various local TV affiliates including WUSA 9, FOX 5 DC and WJLA (ABC Affiliate) News Channel 8. During the 2016-2017 football season, Johnna aired on Comcast Sports Mid-Atlantic (CSN) show, Redskins Life, as the weekly tailgate host. Johnna is currently a regular contributor to the FOX Baltimore Weekend morning show.
---