The summer heat's still got the country in its fiery grip, but—thankfully—autumn is just a month or so away. As the weather turns chillier, fall brings its own bounty of lovely fruits and vegetables. And that means cooks have a chance to make meals designed to fill their bellies, warm their bodies and strengthen their spirits. Fall is a great time to try new dishes, update old favorites and explore trends in cooking.
This season's supermarkets may find foodies staying close to home and using more local produce in their cooking. Making healthy versions of comfort foods is also a trend that's catching on. And finally, using regional produce to create some favorite ethnic dishes allows cooks to mix and match flavors and textures.
Seasonal and regional fall foods
Each region of the country has different produce depending on the season. Look for regional harvest calendars like this one, so you know what to look for at farmers' markets or at your local supermarket.  Here in the Midwest, fall offers a colorful selection of root vegetables, leafy greens, mushrooms, tomatoes and squashes—perfect for a whole host of recipes. Be sure to take advantage of the green veggies grown in your region—along with adding color and flavor to recipes, they're also a great source of vitamins and minerals. Squash are super-versatile: from dinner to dessert, they can go into dozens of fall dishes. And root vegetables like carrots, potatoes and beets are great accompaniments for roasts and in soups and stews.
Healthy comfort food
Most of the dishes we think of as comfort food are traditional dishes made with simple ingredients, but those ingredients aren't always good for us. Making a few changes to your favorite recipes can give you more nutritional value without sacrificing taste.
For pot roasts, choose lean cuts of meat and slow cook them with root vegetables like potatoes, carrots, onions and parsnips. You can also use lean cuts for beef stew, adding kale and barley—not only will the barley make the stew more filling, but the barley and the kale will add fiber, vitamins and antioxidants to your meal. And even mac and cheese can be made healthier: this recipe uses spinach, cottage cheese and whole wheat macaroni to make it just as wholesome as it is delicious.
Homegrown fusion cuisine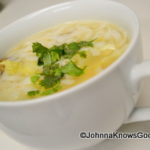 Whether you love Indian, Mexican or Asian food, you can use local ingredients to create your very own fusion cuisine. This recipe for spicy roasted beets uses Indian-inspired spices like garam masala and ginger to create a sweet and savory side dish with a kick. For a soup with Mexican flair, try a batch of chunky, creamy chorizo pumpkin soup. And the Food Network's Southeast Asian Black Kale Tacos give a local vegetable a complex Eastern flair.
As more people use their kitchens and experiment with new types of cuisine, seasonal cooking has become more popular. Fall is an ideal season to get out of your comfort zone and try new dishes; you can also use seasonal produce to give your favorite foods a makeover. Feel free to explore your local produce selection, and use the season's harvest in your region to craft your own fall favorites.
*Jesse Langely is a freelance writer and local food evangelist in the Midwest. Langley is an advocate for online education.
Category: Food.Fun.Stuff.
Johnna French is a Harlem NY native with deep roots in Panama, Washington, DC and North Carolina. All four places have heavily influenced her life and the foods she loves today. After graduating Howard University School of Law and beginning her life as a young professional in the city she was led to start Johnna Knows Good Food in November 2007 to keep family, friends and colleagues updated on where to go and what to eat while dining in the nation's capitol. French, who still practices law, leads a team of three writers to cover the ever expanding Washington, DC food scene. French has been featured in print and television, appearing in Washingtonian Magazine and is a regular contributor to various local TV affiliates including WUSA 9, FOX 5 DC and WJLA (ABC Affiliate) News Channel 8. During the 2016-2017 football season, Johnna aired on Comcast Sports Mid-Atlantic (CSN) show, Redskins Life, as the weekly tailgate host. Johnna is currently a regular contributor to the FOX Baltimore Weekend morning show.
---