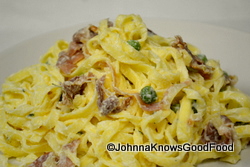 2-3 tbsp. olive oil
1 package of prosciutto
3 cloves fresh garlic (finely chopped)
1 shallot (finely chopped)
2 ½ tsp. fresh thyme (*Add an additional tsp. to this if you would like to use as a garnish)
1 container of Philadelphia Cream for Cooking
½ cup frozen green peas
1 lb. linguine
Salt (to taste)
Fresh black pepper (to taste)
In a medium skillet over Medium-High heat, heat 1 tbsp. of the olive oil and add in the prosciutto.  Cook on both sides for 3-5 minutes or until crisp; remove from heat and drain; set aside.  In another pot, prepare the linguine according to package instructions.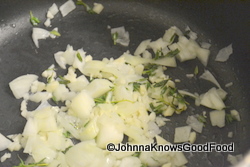 In a medium Dutch Oven, add in 1-2 tbsp. of the olive oil and bring heat to Medium.  Add in the garlic and shallots; cook until the shallots are translucent (*about 1-2 minutes) and be sure not to burn the garlic.  Cook green peas according to package instructions.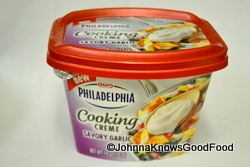 In the Dutch Oven, add in the Philly cream, the peas and the thyme and stir to combine ingredients.  Allow this mixture to heat in the Dutch Oven for about 2-3 minutes.  Meanwhile, cut the prosciutto into small pieces and add it into the Dutch Oven; stir to combine.  Toss together the (drained) pasta and sauce; garnish with any remaining prosciutto and/or thyme.  Serve.
*Johnna's tip: I overcooked the pasta. I'll admit it. I would suggest watching this part the closest because the sauce will become to gooey when paired with the pasta if it is overcooked.  Overall, I am impressed by this little box of creaminess because it cuts out the sauce making process and makes for a quick, weeknight meal.  Thanks to So Good Blog for making me aware of this meal time saver.  Pair together with any pasta, the meat/veggie of your choice and Enjoy!
Category: main dish
Johnna French is a Harlem NY native with deep roots in Panama, Washington, DC and North Carolina. All four places have heavily influenced her life and the foods she loves today. After graduating Howard University School of Law and beginning her life as a young professional in the city she was led to start Johnna Knows Good Food in November 2007 to keep family, friends and colleagues updated on where to go and what to eat while dining in the nation's capitol. French, who still practices law, leads a team of three writers to cover the ever expanding Washington, DC food scene. French has been featured in print and television, appearing in Washingtonian Magazine and is a regular contributor to various local TV affiliates including WUSA 9, FOX 5 DC and WJLA (ABC Affiliate) News Channel 8. During the 2016-2017 football season, Johnna aired on Comcast Sports Mid-Atlantic (CSN) show, Redskins Life, as the weekly tailgate host. Johnna is currently a regular contributor to the FOX Baltimore Weekend morning show.
---