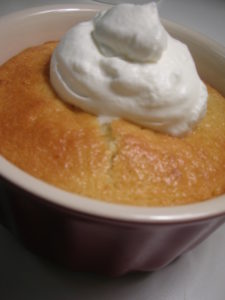 1 cup fresh sliced peaches (*frozen may be used)
½ tsp. lemon juice
¼ cup powdered sugar
¼ butter (softened)
½ cup flour
A pinch of salt
1/3 cup of milk
1 egg
1 tsp. baking powder
Preheat the oven to 375 degrees. Line the bottom of a small baking dish with the peaches and sprinkle with the lemon juice. In a medium-sized bowl, combine the sugar, butter, flour, salt and egg. Add half of the milk and stir. Add in the remainder of the milk and stir. Pour over the peaches in the baking dish and bake for 30 minutes or more depending on how brown you want your crust.
*Johnna's tip: Note that this recipe serves 1 person. What a concept?? The first episode of Johnna Knows Good Food (*yes, I've cloned the growing concept and created the live version of the blog…) is entitled "The Single Person's Dinner". After speaking with some friends, these are the types of recipes that they want to see: cheap, quick and for one person. Easy enough. This peach cobbler serves one and should be accompanied with moundsa dollop of whipped cream. Enjoy!
Category: sweets
Johnna French is a Harlem NY native with deep roots in Panama, Washington, DC and North Carolina. All four places have heavily influenced her life and the foods she loves today. After graduating Howard University School of Law and beginning her life as a young professional in the city she was led to start Johnna Knows Good Food in November 2007 to keep family, friends and colleagues updated on where to go and what to eat while dining in the nation's capitol. French, who still practices law, leads a team of three writers to cover the ever expanding Washington, DC food scene. French has been featured in print and television, appearing in Washingtonian Magazine and is a regular contributor to various local TV affiliates including WUSA 9, FOX 5 DC and WJLA (ABC Affiliate) News Channel 8. During the 2016-2017 football season, Johnna aired on Comcast Sports Mid-Atlantic (CSN) show, Redskins Life, as the weekly tailgate host. Johnna is currently a regular contributor to the FOX Baltimore Weekend morning show.
---