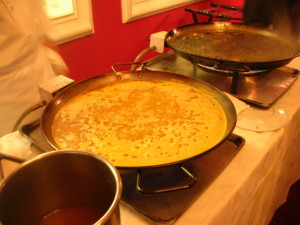 After 21 years of exquisite Spanish cuisine in the District, Taberna del Alabardero is changing the formula. Not the authentic regional Spanish recipes but expanding on concepts that work. If you live in the D.C. area, there is no shortage of places to grab mimosa's and an Eggs Benedict. There is, however, a shortage of brunch spots to please your palate if it is in need of traditional Spanish fare. Taberna has come to the rescue.
The restaurant now has a Spanish-Style Brunch which features cuisine from a different region each month. The month of September featured Galicia, which is located at the northwestern corner of Spain and is most notably recognized for its seafood and speciality stews. It's not surprising that the menu was full of dishes featuring the regions most popular seafood including, but not limited to, Arroz con Bogavante (*Lobsters and Seafood Rice), Mejillones el vapor en vinagreta (*Steamed Mussels in its Vinaigrette) and Caldeira de Rape (*Monkfish and Vegetable Stew).
This month the restaurant takes guests to Asturia, Spain. Asturia, positioned on the North Coast of Spain, is also known for its seafood which is ironic based on the fact that its most famous dish is the fabada asturiana (*a rich stew typically made with large white beans (fabes), a shoulder of pork (lacón), black sausage (morcilla), spicy sausage (chorizo), and saffron (azafrán)). Taberna is featuring this dish alongside Lomo de Cerdo al Cabrales (*Roasted Pork Loin in a "Cabrales" Cheese Sauce) which highlights the regions rich history in cheese (*Asturia stands for "the land of cheeses").
For a person that is seeking an experience outside the normal eggs and bacon, Taberna del Alabardero's new brunch menu steps outside the box. For the first time in a very long time, there were no eggs at brunch…and it was a very good thing.
Category: restaurant reviews, Washington D.C.
Johnna French is a Harlem NY native with deep roots in Panama, Washington, DC and North Carolina. All four places have heavily influenced her life and the foods she loves today. After graduating Howard University School of Law and beginning her life as a young professional in the city she was led to start Johnna Knows Good Food in November 2007 to keep family, friends and colleagues updated on where to go and what to eat while dining in the nation's capitol. French, who still practices law, leads a team of three writers to cover the ever expanding Washington, DC food scene. French has been featured in print and television, appearing in Washingtonian Magazine and is a regular contributor to various local TV affiliates including WUSA 9, FOX 5 DC and WJLA (ABC Affiliate) News Channel 8. During the 2016-2017 football season, Johnna aired on Comcast Sports Mid-Atlantic (CSN) show, Redskins Life, as the weekly tailgate host. Johnna is currently a regular contributor to the FOX Baltimore Weekend morning show.
---