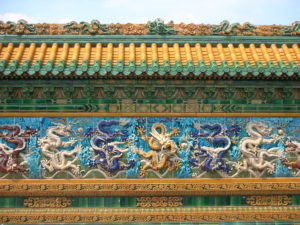 It's been about two years since my first trip to Asia.  Long overdue.  For my first trip over, I decided I should cover the largest territory first, which would be China.  India runs a close second, but I decided that trip would be reserved for my third or fourth trip over to Asia.  The next destination on my list is Japan.  Of all the renowned places for excitement, innovation and culture, Japan tops the charts, Tokyo in particular seems to come to mind.  Since there are very few cheap flights to Tokyo, it is but a dream deferred…for the moment.
Lucky for me, I can still experience a minuscule piece of the culture here in the District via the cuisine of the eclectic territory.  The other night I had the pleasure of indulging myself in three unique stabs at the Asian culture and cuisine.  First stop:  Buddha Bar.  Hmm, where shall I start:  pricey, expensive (*pretty much any word that describes too much money) but the decor was amazing.  Trendy, comfy with the vintage lounge area and sexy happy hour scene…the ambiance must be a factor in the price.  The next stop was Kushi…moderate, hip and where the conservative  Hill crowd might meet for drinks.  I've ventured here a few times and the food on this particular visit stood out with the pork belly and chicken thigh skewers alongside the Dark Tsunami summer cocktail (*Rum, Rum, Ginger Beer and Lime sum up the drink details…). 
Last but definitely not to be made least was Sticky Rice.  If you have not been to Sticky Rice, be prepared for: 1. a bit of a wait, 2. little to no elbow room and 3. some of the best drinks and tater tots on this side of town!  When we sat down after the 25 minute stint (*table for 2 mind you…), I immediately asked "what is so great about these tater tots??"  Kind of hard to describe on paper, you just have to take a trip to the H st. corridor to dip these bundles of goodness in the "mystery" sauce.  Of the three, Sticky Rice is the place where my two tattoos were embarrassing only because the number should have been over five @ the very least, my normal loud voice totally fit in and a video of Micheal Jackson's "Beat It" is sure to keep you entertained while you down the strongest, alcohol infused Sweet Tea.  I look forward to my next visit needless to say.
Now if that was not a trip around the District to all of the top Asian spots…  Buddha Bar, Kushi and Sticky Rice all remind me of my first trip to Asia.  As I moved from city to city the culture, vibe and experiences changed dramatically.  Beijing offering a more conservative, tense vibe…Shanghai was all about fun, big city life…and Hong Kong was the sophisticated, contemporary lifestyle.  Fun times.  Until my United Airlines points build up again, I will have to enjoy the replicated delicacies of what I hope to find in Tokyo…
Category: World Tour
Johnna French is a Harlem NY native with deep roots in Panama, Washington, DC and North Carolina. All four places have heavily influenced her life and the foods she loves today. After graduating Howard University School of Law and beginning her life as a young professional in the city she was led to start Johnna Knows Good Food in November 2007 to keep family, friends and colleagues updated on where to go and what to eat while dining in the nation's capitol. French, who still practices law, leads a team of three writers to cover the ever expanding Washington, DC food scene. French has been featured in print and television, appearing in Washingtonian Magazine and is a regular contributor to various local TV affiliates including WUSA 9, FOX 5 DC and WJLA (ABC Affiliate) News Channel 8. During the 2016-2017 football season, Johnna aired on Comcast Sports Mid-Atlantic (CSN) show, Redskins Life, as the weekly tailgate host. Johnna is currently a regular contributor to the FOX Baltimore Weekend morning show.
---