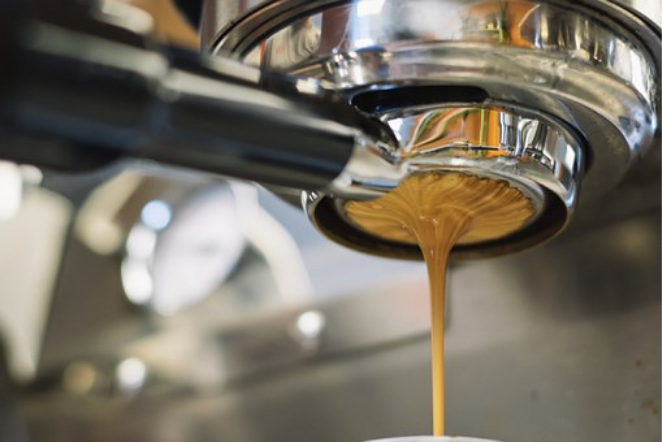 Arguably one of the most popular coffee making machines out there, The Delonghi Magnifica ECAM22.110.SB has received several great reviews from buyers and users all over the world. This automated bean-to-cup machine makes coffee making for personal and even commercial purposes quite seamless. This machine also comes at a good price without compromising on quality delivering just as exceptionally as more expensive units. Visit https://www.beantocupcoffeemachines.net/reviews/delonghi/magnifica-esam4200 for a detailed review.
The DeLonghi Magnifica looks good in any modern kitchen and will also work well in a coffee shop as well as delivering perfectly brewed cappuccinos and espressos without stressing the user at all. The ECAM22.110.SB also offers an impressive range of customization settings for a perfectly balanced, sweet-smelling coffee cup you will love. This machine has so much to offer. Let us examine some of the main features of DeLonghi Magnifica. They include:
Works with whole beans or ground coffee: To get the best results, you should use fresh coffee beans starting from scratch. Nevertheless, you can also use pre-ground coffee with the machine if speed and cost is a major concern.
Pressure: Delonghi Magnifica delivers with outstanding pressure. As you probably know, this is one of the most important factors that determine the quality of a coffee making machine. This is exactly what you get with DeLonghi Magnifica. The grade 15 bar pump on the machine gives the needed pressure to the coffee thereby making your coffee stand out and getting your customers satisfied.
One-touch program: This machine's simplicity is top-notch. It features a one-touch automatic program system that makes coffee-making simple and stress-free. It takes just one press function to make a range of coffee recipes from beans to steaming hot coffee mug in no time. Not only are the results instant, but also consistent. Anyone with decent enough coffee-making experience should have no trouble working this machine. You can easily adjust for the intensity, temperature, and even the cup size using the intuitive control panel. The display is also clearly labeled to let you know exactly what you are doing.
Durability: Delonghi Magnifica is built to be quite durable. What's more, you also get a two-year manufacturer warranty on this machine as well although you are unlikely to need it since the device is not prone to mechanical breakdown. It can be used for both personal and commercial use multiple times per day without having to worry about breakdowns and damage.
Milk frothing arm: For coffee that needs a splash of milk, DeLonghi Magnifica has a frothing arm to heat and make foam to add to your drinks for cappuccinos and lattes. However, because this frothing arm is not an automated system, it takes some getting used to to get optimum results.
Ease of Cleaning: another impressive feature of this machine is how easy it is to get it clean. While you may need to manually clean it once in a while, the unit has a lot of auto cleaning features that make it quite easy to rinse and de-calcify. This easy decalcification feature makes this machine the perfect choice if you live in an area with hard water. The machine reminds you when it is due for decalcification (usually in a few months). the brewing unit and the water reservoir are removable so that you can easily rinse and refill them. You remove the drip tray as well. The machine self-rinses after every use which helps to keep it clean without so much stress on your part.
Some facts to note:
The cup warming feature of the DeLonghi Magnifica can be slow. Hence you are advised to use hot water to prepare your drink if you are in a hurry. This should not be a problem because boiled water will warm the thickest mugs in little or no time.
Good coffee beans are the best match: People make this mistake a lot. Sometimes the problem isn't with your machine but with the beans. Hence you should go for a good quality unit matched with the beans available in the supermarket or shopping mall. Using good beans is the best way to get the best from any machine. Some people recommended Lavazza Rosso. You could get this or some other good ones. Click here for some expert tips for choosing the best beans.
Hard water settings: this unit has a programmable feature that allows you to adjust the machine to suit the water hardness in our area. You can check the manual for instructions on how to do this. This will extend its lifespan and ensure that it serves you for a long time to come.
Conclusion
The DeLonghi Magnifica coffee makers offer you the best of quality and performance at a very good price. While there may be cheaper machines out there, this is indeed one of the best you can get for that price.
Category: Food.Fun.Stuff.
---