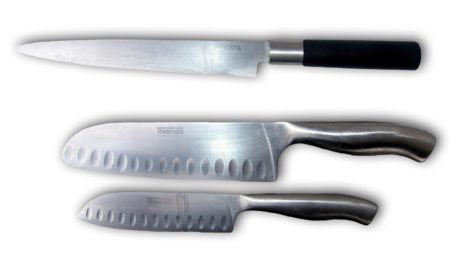 Source: Pixabay
Every cooking enthusiast who wants to take his hobby to the next level should be familiarized with the variety of knives available on the market. Culinary experts regard France, Germany, and Japan as the best producers of kitchen knives. German and French knives are heavier and require a certain level of experience to use them, while the Japanese one are designed for activities which need finesse. Either way, each type has its own uses and perks. To make this process easier, here is a quick and simple cutlery guide that will serve both as an informative piece and will make your choice easier. Chef Knives website, an authority in the domain, provides comprehensive guides for everyone who is interested by this particular subject.
Santoku Knife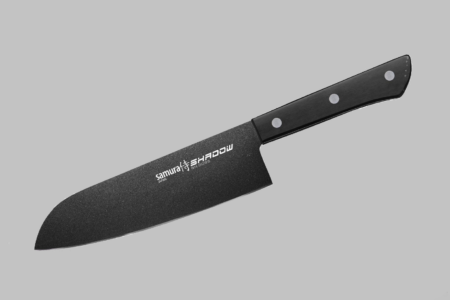 Source: Wikimedia Commons
The Santoku knife, while being very similar to the Chef Knife (more on it later), has a few characteristics functional and design wise that sets it apart.
The straight, wide blade is perfect for mincing herbs and chopping vegetables into thin slices.
Those scalloped edge add air between the metal and the food being cut. This makes the blade very easy to clean, so you do not have to worry about ingredients getting mixed up.
In Japanese, ''Santoku'' translates to ''three virtues'', which refers to dicing, chopping, and slicing. This makes it a very good general all-purpose knife
The handle provides a balanced grip without sacrificing any comfort for the user. It is especially good if you have small hands.
In some cases, the Santoku knife can be a very good alternative to the cleaver.
Therefore, this knife is perfect if you cook dishes based highly on vegetables on a regular basis. The handle design is simple and gracious at the same time, providing comfort, precision, and momentum for fast chopping.
Chef's Knife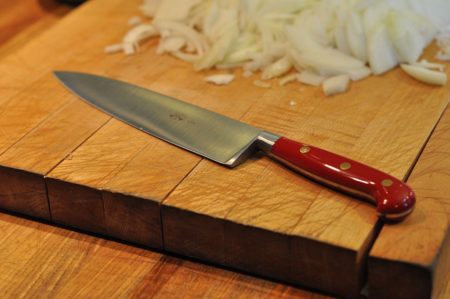 Source: Flickr
The Chef's knife is the quintessential cooking tool in every kitchen worldwide. Like all dogs are associated with Beagles, so are cooking knives with chef knives. You have without a doubt seen it in every TV show and restaurant kitchen. It is a versatile, multi-purpose tool that can be utilized for almost any cooking activity, and all enthusiasts should have one at hand's reach at any given moment.
Thanks to its balanced learning curve, it is a perfect choice for beginners.
Even though it is easy to use, it can provide high levels of satisfaction to experienced chefs who have mastered it.
Rock chopping is a pleasure because the blade is rounded towards the top
Good for chopping and legumes rapidly and mincing herbs.
Boasts a sharp blade that allows meat cutting into fine, elaborate patterns.
The handle is so comfortable that the knife almost feels as an extension of your hand.
Judging by these characteristics, it is obvious why every person who wants to delve deeper in the culinary arts should own a chef's knife. However, there are many types on the market, and you might wonder which is best suited to your needs.
Cleaver Knife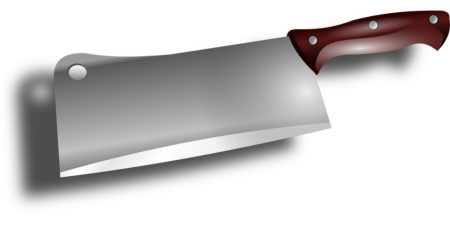 Source: Pixabay
The cleaver knife, a staple of horror films, is one of the most recognizable kitchen tools in history. But you might be surprised to find out that it is not as dangerous to use as it looks. Its shape is more resembling of a small hatchet than a regular knife.  In fact, the blade itself is barely sharp, and it can't be used for cutting in any shape or form. The only sharp part is the tip, and its only utility is to make small cuts through flesh. Here are a few perks of the cleaver knife, in no particular order:
The thick blade is good for smashing and breaking down meat.
Its heavy weight provides stability and momentum, which is ideal for breaking through bulky animal bones.
If you like to cook game (hunted) meat, the cleaver is perfect for splitting the carcass of the animal in separate parts.
The hard edge can withstand repeated blows into thick meat.
Can also be used for crushing certain vegetables, such as squash and garlic.
To summarize this entry, the cleaver knife is not a multi-purpose tool because it is designed to accomplish very specific tasks that require blunt force and momentum. Although it is best suited for handling big slices of meat, it can also be used on smaller animals, like chicken and ducks. If you want the full, unaltered butcher experience, this is the right tool for you.
Boning Knife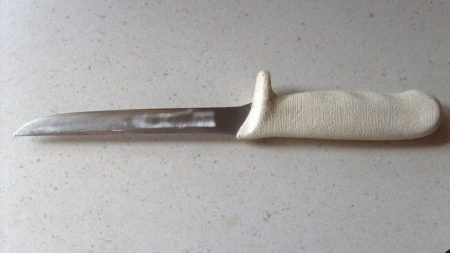 Source: Public Domain Pictures
Rounding up this list is the boning knife, a very specialized kitchen tool dedicated to tasks that require precision and finesse. Like the name suggests, it is designed to cut along the bone, removing the meat without damaging its shape and integrity.
The stiff, very sharp blade is perfect for cutting meat with extreme precision.
Best used for poultry and fish, but is also good for beef and pork
The slight curve provides the user with a lot of freedom, without risking damaging the meat
The sharp point provides the cook with flexibility and momentum at the same time
Easy to use both for rookies and experienced cooks
Cutting along the bones is an activity that many people dread, but the boning knife's elegant design makes it seem almost natural. This specialty kitchen tool will make you feel like a true professional while using it.
Conclusion
Each kitchen activity requires a special type of knife in order to accomplish it in a timely fashion. While many knives are multi-purpose and can be utilized for a wide range of tasks, it is best to have a collection of tools that are designed for specific jobs. If you want to remove the meat from the bones, the boning knife is the perfect tool. The cleaver is best used for cutting through thick chunks and meat and smashing  bones, although some vegetable-related activities can also be accomplished. Finally, the Santoku and Chef's Knife can be used for almost any type of jobs.  Since there are so many types to choose from, hopefully, this article will provide you with some direction and guidance.
Category: Food.Fun.Stuff., guest post
---