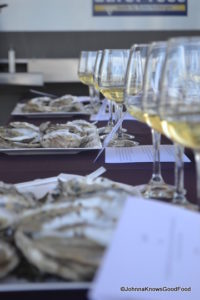 Oysters and Wine?  Absolutely yes, please.  It was no surprise that when me and my plus one plopped down for lunch at Chatham Vineyards we would feel like little kids again spending our first day at the circus.  Two of our favorite things were about to come to the table and our job was to taste and compare the various flavors.  Easier said than done, comparing oysters that have so many affluent flavors is quite a job indeed.  I was up for the challenge.
Sewanscott, H.M. Terry Co. were my favorites of the day.  Salty, without leaving you with a headache, balanced with a meaty texture and succulent, these oysters were the truth (*translation:  the best of the best).  Paired with the works of Mills and Jon Wehner, owners of Chatham Vineyards, the oysters had their opportunity to truly shine.  Benefiting from the moderate climate of the space between the Atlantic Ocean and the Chesapeake Bay, Chatham Vineyards contains 32,000 varietals of Chardonnay, Merlot, Cabernet Franc, Cabernet Sauvignon and Petit Verdot wines.  The price points made it a no-brainer decision to purchase a few for the time we spent around the fire pits and for the trip back to the District.
Perhaps it was the beautiful stretch of land that seemed never-ending or the oysters/wine pairing or maybe the fire pits, but I truly enjoyed my time spent at Chatham Vineyards.  When one is in need of some R&R that includes wine, oysters and seclusion from the perils of city living, this should be added to the list of destinations.
Category: Alcoholic beverages, Food.Fun.Stuff., oysters, Virginia Eastern Shore
Johnna French is a Harlem NY native with deep roots in Panama, Washington, DC and North Carolina. All four places have heavily influenced her life and the foods she loves today. After graduating Howard University School of Law and beginning her life as a young professional in the city she was led to start Johnna Knows Good Food in November 2007 to keep family, friends and colleagues updated on where to go and what to eat while dining in the nation's capitol. French, who still practices law, leads a team of three writers to cover the ever expanding Washington, DC food scene. French has been featured in print and television, appearing in Washingtonian Magazine and is a regular contributor to various local TV affiliates including WUSA 9, FOX 5 DC and WJLA (ABC Affiliate) News Channel 8. During the 2016-2017 football season, Johnna aired on Comcast Sports Mid-Atlantic (CSN) show, Redskins Life, as the weekly tailgate host. Johnna is currently a regular contributor to the FOX Baltimore Weekend morning show.
---