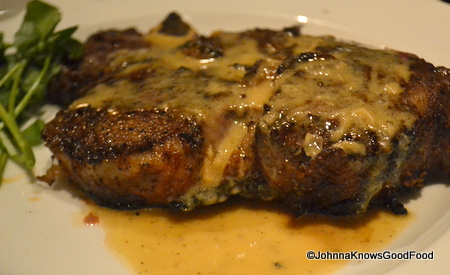 In America, Italian food is generally associated with pasta, gnocchi and risotto: starch-happy dishes that keep our bellies full for days. But for the Italians, who spend long hours ritualizing their meals amidst Tuscan hills and fresh Florentine air, a pasta dish is only the primi course.  Somewhere between the antipasto starter and the finishing dolce dessert comes the secondi meal, featuring nothing more than a high quality cut of meat.
Unlike American-Italian dishes, where the chicken parmesan is lost under a pile of pasta, the traditional Italian secondi course exalts its meat. Lightly dressed, unaccompanied, this meal asks a lot of meat's natural flavor.  For this reason, Italians always cook with the highest quality meats. Had a steak in Italy and couldn't recreate it? This is probably because Italy is home to the chianina, a breed of cattle unique to the country's picturesque landscape.
Though the American Chianina Association has yet to fulfill its mission of promoting chianina breeding in the US, with specific attention to your high quality (preferably organic, free-range) cut of meat, you can create Italian steaks as flavorful as in the best New York, Los Angeles, Chicago, San Francisco, and Las Vegas Italian restaurants.
Italians season with lemon to tenderize the surface of their steaks. If you choose to remove the visible fats from the steak, be sure to coat the meat with extra virgin olive oil to replace its flavor. Keep seasonings simple: sea salt, basil, rosemary, thyme, Italian parsley, chives, and fresh garlic. Let the steak speak for itself. Marinade for several hours and grill over high direct heat. Simple, yet delicious!
*Guest Post submitted by Lynn Jackson, of Lavo Las Vegas.
Category: Food.Fun.Stuff.
Johnna French is a Harlem NY native with deep roots in Panama, Washington, DC and North Carolina. All four places have heavily influenced her life and the foods she loves today. After graduating Howard University School of Law and beginning her life as a young professional in the city she was led to start Johnna Knows Good Food in November 2007 to keep family, friends and colleagues updated on where to go and what to eat while dining in the nation's capitol. French, who still practices law, leads a team of three writers to cover the ever expanding Washington, DC food scene. French has been featured in print and television, appearing in Washingtonian Magazine and is a regular contributor to various local TV affiliates including WUSA 9, FOX 5 DC and WJLA (ABC Affiliate) News Channel 8. During the 2016-2017 football season, Johnna aired on Comcast Sports Mid-Atlantic (CSN) show, Redskins Life, as the weekly tailgate host. Johnna is currently a regular contributor to the FOX Baltimore Weekend morning show.
---