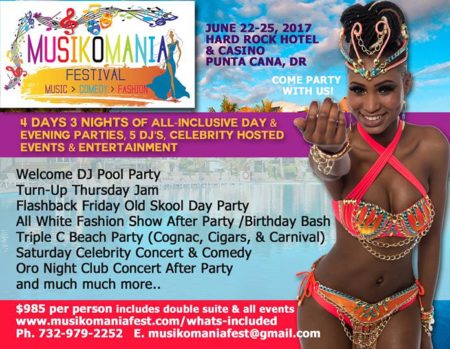 JKGF is taking these talents overseas…and we want you to be there!!  Join us for a weekend of fun, food and music in Punta Cana, Dominican Republic.  From June 22 – 25, 2017, MUSIKOMANIA, will takeover the island with food demo's (that is where JKGF comes in alongside celebrity Chef Ron Duprat), concerts, parties, shows and more.  The package includes an All-Inclusive stay at the Hard Rock Hotel & Casino Punta Cana.  Hope to see you there!
P.S.  JKGF readers use promo code "johnnaknowsgoodfood".  See you in the DR!!
Full Details found here.
Category: Announcements, Style Section, Travels
Johnna French is a Harlem NY native with deep roots in Washington, DC and North Carolina. All three places have heavily influenced her life and the foods she loves today. After graduating Howard University School of Law and beginning her life as a young professional in the city she was led to start Johnna Knows Good Food in November 2007 to keep family, friends and colleagues updated on where to go and what to eat while dining in the nation's capitol. French, who still practices law, leads a team of three writers to cover the ever expanding Washington, DC food scene. French has been featured in print and television, appearing in Washingtonian Magazine and is a regular contributor to various local TV affiliates including WUSA 9, FOX 5 DC and WJLA (ABC Affiliate) News Channel 8. Johnna is currently airing on Comcast Sports Mid-Atlantic (CSN) show, Redskins Life, as the weekly tailgate host.
---